What do vanilla, coconuts, cloves and coffee have in common? Master these four basic aromas – all widely found in daily life in most cultures, at least three of them over breakfast – and you are halfway to understanding the difference between an oaked and an unoaked wine.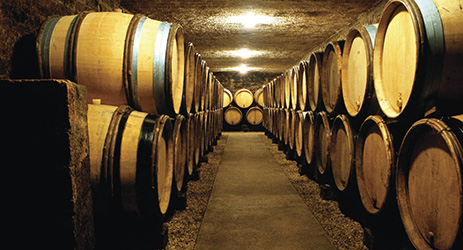 Spend a little time with them, and you have a pretty good idea of why we respond to oak in the first place. Vanilla is probably the most widely recognised, with its sweet tang of childhood. It gives a comforting, patisserie-style roundness, explaining why it is the single most used food flavouring worldwide. Equally coffee is a smell that many instinctively respond to, with its grilled crème caramel seduction, and can be formed over the ageing process as well as in young wines fresh from the barrel, which is why you so often find a hint of smoky cappuccino in vintage champagne.
'Most usually, you only remark on the role that oak plays in wine when there is too much of it,' says Axel Marchal, a researcher at the faculty of oenology in Bordeaux. 'Instinctively many of us don't like over-oaked tastes, but correctly used it should be subtle, and its benefits go beyond taste. The easiest place to get oak wrong is with white wine, but when used with the right grape varieties, it cradles the fruit, offers imperceptible structure and complexity, and chemically the oak will modify the aroma compounds.'
Marchal has spent years trying to unpick the secrets of the volatile aromas that lurk in a wine glass – a vast, swirling topic that is as much about painstaking work in a laboratory as it is sampling glasses of aged Montrachet.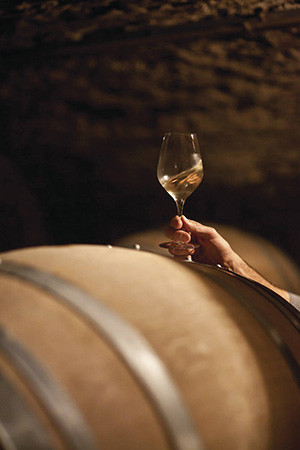 What you're actually smelling in your glass is not of course vanilla beans or coffee grounds, but chemical molecules that are closely associated with the aromas; vanillin (the most prevalent of hundreds of molecules found in a vanilla bean, and richly present in raw oak), whisky-lactone (that's coconut, and is a smell that develops during the drying out of the oak), eugenol (cloves or spices, again present in raw oak but levels increase during open-air wood seasoning, as well as the toasting of the barrel during fabrication) and furfurylthiol (the grilled, smoky, torrefied coffee aroma, again from barrel toasting). On top of this, the alcohol in the wine itself acts as a solvent, further drawing flavours out.
The effect that these molecules have depends on any number of things, from the origin of the wood (American oak has more coconut flavours than French oak, and sessile oak more than peduncular), to the age of the barrel (new oak has more concentrated vanillin) and the point at which the oak was introduced (counter-intuitively, if wine is fermented and aged in barrel, it will taste less 'oaky' than if it is only put in for ageing).
But getting to grips with barrel aromas is only part of the puzzle; the type of wine is also key. More important than being red or white, it's the grape variety that makes or breaks the use of oak ageing. Some grapes are enhanced by oak while others are smothered by it– and there is plenty of evidence in glasses every day to suggest that winemakers need a refresher course in this.
As a rule of thumb, with any highly aromatic white grape variety, from Muscadelle to Gewürztraminer, new oak is best avoided because it can weigh down floral character. Viognier often holds up better, but again new oak can swamp it – I've been disappointed plenty of times when opening a bottle to find the delicate apricot and honeysuckle aroma has turned heavy, overly-made up, cosmetic. Even Condrieu, the home of Viognier, has its moments.
The heady aromas of Sauvignon Blanc also have to tread carefully around barrels. This family of grapes includes Petit Manseng, Petit Arvine, Colombard and even Riesling (although the nose of Riesling is highly complex, and researchers have still got plenty to learn). Sauvignon Blanc is well known to lose its varietal character with new oak, so it's always better to use older or larger-sized barrels, or just avoid entirely. Here in Bordeaux, the Sémillon variety stands up better. This is because it has a grilled almond roundness that balances the oak, meaning that most barrel-aged Pessac Léognan has a healthy dose of Sémillon to ensure barrel ageing gives structure and long life rather than squashing the aromatics. In this aspect of its personality, Sémillon is a close companion to Chardonnay; one of the few white grapes that can reach its full potential through barrel ageing.
Sorting out what works and what doesn't is clearly a complicated area, and in my experience, using and misusing oak is one of the most common mistakes that I find in tastings. But like so much in the wine world, nothing beats a bit of practical experimentation…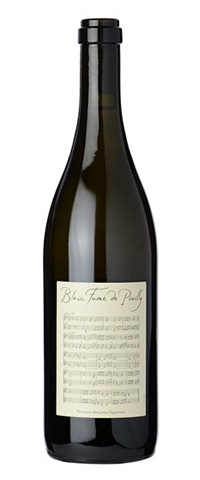 Blanc Fumé de Pouilly, Domaine Didier Dagueneau 2011
A fine tribute to the late Didier Dagueneau, the man who from the 1980s onwards pushed forward the Sauvignon culture in the Loire appellation of Pouilly Fumé, creating thrilling wines from mainly silex soils. Today it's his son Benjamin who is behind the bottle, and seems to have nailed his father's approach. This has grip from the first minute, and is bone dry, but with that wild side of Sauvignon that you rarely get in a polished New Zealand glass, but can frequently find in the Loire, where green pepper pyrazine and volatile sulfurous thiols collide. It starts with a fresh attack, but grabs you in the mid-palate and shoots vertically upwards, an explosion of minerality. The Dagueneaus are experimenters, and it is tough to say exactly what their oak regime is from year to year and cuvée to cuvée, but you can expect large volume oak vats, usually 100 litres, to preserve the fragrant green-tinged aromas of Sauvignon Blanc while allowing the smoky oak notes to develop over ageing.

Domaine Trimbach Riesling, cuvee Frederic Emile Alsace 2007
An unusual cuvée from a blend of two grand cru vineyards that both produce Rieslings that are able to settle in for long ageing. This is a textbook example of why Riesling has the complexity, precision, austerity and focus to do perfectly well without any oak at all. Right from the first, the nose is rich, round, but the palate needs a good amount of air to open up and broaden out. This has been made in 100% stainless steel vats, and yet has a smoky, sexy, smudged pencil lead nose that you would swear had to have come from a lightly toasted barrel. But it's the soil, the acidity, the sheer audacity of allowing a wine to stand by its terroir, unadorned. It's why Trimbach is hailed as such a brilliant estate. Usually released around five years after harvest, this offers clear proof that some grapes are made to go it alone. As Marchal says; 'Oak and Riesling are like ketchup and lobster.'

Chassagne Montrachet, Domaine Fontaine Gagnard Les Vergers 1er cru 2010
Despite being the most planted white grape in the world, very little is known chemically about the aromas of Chardonnay. There is research happening in Dijon, but one of the challenges they are finding is that the wine has to be unoaked to isolate molecules in the glass, and the greatest Chardonnays from the region are invariably aged in barrel. All this to say that here we have an example of just what can happen if a touch of oak finds the right partner.
Plenty of Chardonnay producers are enthusiastic with oak to the point of cloying sickness, but this Chassagne Montrachet offers a hint of what can happen when you get it right. Nothing excessive here; 12 months in oak, 30% new and 70% one year old. The result is a voluptuous weight, with swirls of citrus and toast, and an aroma that unfurls and builds up slowly but surely, rewarding slow discovery. The wine is only three years old and in the reductive phase that can emphasise the oak a little too much, but the toasted hazelnuts of the Chardonnay, mixed with quince and brioche, makes for a powerful combination, and it is impossible to know where the oak ends and the grape begins.
All rights reserved by Future plc. No part of this publication may be reproduced, distributed or transmitted in any form or by any means without the prior written permission of Decanter.
Only Official Media Partners (see About us) of DecanterChina.com may republish part of the content from the site without prior permission under strict Terms & Conditions. Contact china@decanter.com to learn about how to become an Official Media Partner of DecanterChina.com.