Jefford on Monday
It didn't seem to attract much notice at the time, but the Casa do Douro was finally declared bankrupt and wound up at the end of 2014, with debts of €160 million (€130 million of debt plus €30 million of accumulated interest). As I described back in 2011, its hapless maladministration was one of a number of factors acting as a check on the Douro's development and prosperity. Since then, things have both got better and got worse.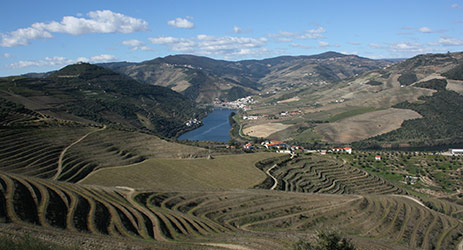 The things that matter, perhaps, are those that have got better. Few declared port vintages have ever been more enthusiastically received and sold through than 2011, and wine lovers show a swelling appreciation for the Douro's table wines, too (sales of table wine grew by 14 per cent in volume and 12 per cent in value in 2014).
For what it's worth, I'm convinced that the Douro has the potential to rival Bordeaux, Burgundy, Piedmont, Tuscany, Rioja and Napa as a table-wine region – it is a rare world 'great' – and that we will all realise as much in fifty years. It was those unfortified red wines, remember, which put the Douro on the wine map, long before fortification became the norm. They were the wines which Samuel Johnson and James Boswell so enjoyed drinking together in London's late eighteenth-century taverns; they will thrill the thinkers, collectors and writers of the late twenty-first century, too.
The good news was, in an eye-catching way, summed up by the Wine Spectator's most recent 'Top 100' selection, with a hat-tossing result for the Douro: Dow's 2011 took top slot and two Douro table wines, the 2011 Chryseia and the 2011 Quinta do Vale Meão, took third and fourth places. (The 2011 Léoville-Las Cases limped in at 10th.) Moreover the Spectator's columnist Matt Kramer spent three months based in Porto last year. The Douro richly deserves influential support of this sort.
So what's getting worse? Paradoxically, life for the Douro's farmers. The three Spectator-garlanded bottles loiter around the $100 mark: this is the cream. The milk itself, though, is souring.
'The last 15 years,' says Adrian Bridge, managing director of the Taylor Fonseca Port Group, 'have seen a 25 per cent increase in plantings combined with a ten per cent drop in port sales. The difference is due to table wine.' What's wrong with that? 'These,' says Paul Symington of Symington Family Estates, 'are some of the most expensive grapes to grow in the whole of Iberia: the cost is €1.04 per kilo. Port grapes are paid at between €1.30 and €1.40 per kilo, whereas table-wine grapes get as little as 25 cents a kilo, though they come from the same vineyards as the port grapes. It has to change. The farmers cannot survive. The economics simply do not add up. The region is dying a slow death. There has to be a more equitable pricing of grapes. Behind the great thing – this renaissance in table-wine production – is a crisis which needs to be understood and resolved.'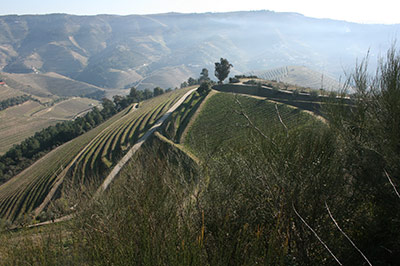 How has this come about? The fundamental problem is that the Douro is administered by a system put in place during the 1930s, when the Douro produced port alone, during a world economic depression and with the nation under the authoritarian and paternalistic regime of António Salazar. Port farmers are given an annually adjusted quota ('benefício') each year for the amount of port they are allowed to make, depending on quality and on regional stock levels. No farm is allowed to produce port alone; the excess goes for table wine, whose production is not subject to a quota – and the overall permissible yield for both port and wine is set unrealistically high, at 7,500 kg/ha, or about 55 hl/ha. In fact few places in the Douro are able to produce grapes with a yield much above 42 hl/ha, and the finest quality vineyards of all produce markedly less than that.
Since volume port sales have been declining and the region was historically overstocked, the port quota has been reduced in recent years, and is in effect tradable (though this is technically illegal). Farmers struggle to cover their costs by using or trading their port quota entitlement, and then try to scrape a little profit with table-grape sales, even if those are sold below cost price. It means that the official market in Douro grapes is one of perfect insincerity.
'What we really bring about,' says Adrian Bridge, 'is a distortion of the market. It's not qualitative. The farmer has no incentive to grow great grapes, since poor-quality grapes with benefício will always find a market. Even professional farmers are not investing in their vineyards any more. There are more farms for sale in the Douro than there have ever been. The longer we sweep the problem under the carpet, the more difficult it will be to resolve.'
As so often in Europe, though, the difficulty is that a viticultural problem is simultaneously a social problem – and so solving it is not just an economic matter but a political matter, too. The bitter truth is that the Douro has too many farmers: 17,000 with less than 1 ha, and only 660 with 10 ha or more. Benefício keeps them in business – at a kind of starveling level. 'Benefício is somehow killing the region,' says table-wine producer Tomás Roquette of Quinta do Crasto in summary, 'yet the region is not economically ready for the end of benefício.' That is what Paul Symington calls the Douro dilemma.
Half a century hence, of course, the quota system will be long gone and the market in Douro grapes will be a free one. There will be many fewer farmers, and a set of sub-regional DOCs to replace the inadequate single Douro DOC which covers table wine at present. The great Douro table-wine farms will be as well known and as keenly followed as Médoc châteaux or the domains of leading Burgundy or Barolo growers. Great port will co-exist alongside great table wine, but there will be more of the latter than the former, and the historical wheel will be approaching full circle. Quite how we get there, though, is opaque.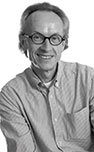 Columnist Introduction
Andrew Jefford is a columnist for both Decanter magazine and www.decanter.com, Jefford has been writing and broadcasting about wine (as well as food, whisky, travel and perfume) since the 1980s, winning many awards – the latest for his work as a columnist. After 15 months as a senior research fellow at Adelaide University between 2009 and 2010, Andrew is currently writing a book on Australia's wine landscape and terroirs. He lives in the Languedoc, on the frontier between the Grès de Montpellier and Pic St Loup zones.
Click here to read all articles by Andrew Jefford>>
- Follow us on Weibo@Decanter醇鉴

and Facebook

for the latest news and updates -
All rights reserved by Future plc. No part of this publication may be reproduced, distributed or transmitted in any form or by any means without the prior written permission of Decanter.
Only Official Media Partners (see About us) of DecanterChina.com may republish part of the content from the site without prior permission under strict Terms & Conditions. Contact china@decanter.com to learn about how to become an Official Media Partner of DecanterChina.com.