Jefford on Monday
Anyone who visits wine cellars regularly will have noted clay, concrete or earthenware jars of various sizes and forms stealthily invading the world's wineries, both modest and grand. (And there is nothing grander than the harem of pale, shapely amphorae in which around 35 per cent of the Pontet Canet harvest is aged each year.)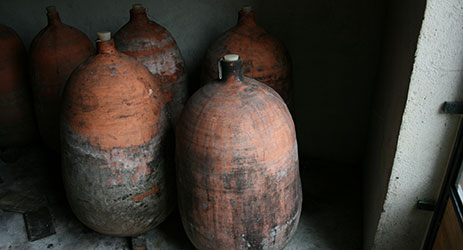 If, like me, you were born with dissident genes, you might suspect that fashion plays as much of a role as function in all of this. If so, let me tell you the following story. It's a shocker.
I write this on the first day after a marathon, two-day tasting session of Cahors from 2010, 2011 and 2012, of which more in a couple of weeks. I gave my highest mark (19 out of 20, or 96 out of 100 if you prefer) to a single wine out of the 250 or so tasted.
Here's the raw note. 'Saturated black-red in colour. Yes, yes, yes: this is what fine Malbec should be – lovely, graceful, floral enchantment. Precision, poise and finesse, and a world away from the galumphing oak in some of its peers. On the palate, it has magnificent depth and density, and almost unbelievable floral perfumes. Who has made this wonderful thing, and how? Peony, anis and fruit blossoms draw you in, then there's a mass of dense, rich, amply textured wine behind. Awesome. Bravo!'
I'm not suggesting that this is the best wine made in the last three vintages in Cahors; there were many other magnificent contenders, and 'the best' is a stupid concept. (I liked some galumphing wines, too.)
The point is that – under blind-tasting conditions – this wine emerged both as being very different from its peers, and very beautiful in a singular manner. In particular, it captured the floral charm and grace of Malbec (locally called Auxerrois) wonderfully well, without either reduction or evident oak. It was, nonetheless, a statuesque wine, as great Cahors has to be. (The intrinsic tannic richness of the wine needs mastering during élevage in some way or other, which is why most feel oak is necessary.)
We chatted through the results afterwards, as the socks came off the bottles, and I pointed to the wine I'd liked so much. 'Oh, that's their jar wine,' said Armand de Gérard, who had organised the tasting on behalf of the UIVC, Cahors' Interprofessional Union.
Oh really? No oak, but jars? Wow! Now I see the point.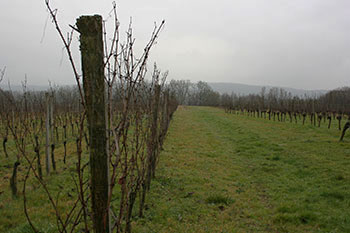 Three hours later, in the damp and gloom of a January afternoon in rural Lot, I was chatting to the wine's creator, Stéphane Azémar. His wife Véronique was out pruning. He, by the way, had begun life as an architect, and she as an art historian. On one day alone, they decided to abandon their city work and change their lives – which is why their 7-ha domain, founded in 2000, is called Clos d'Un Jour (the 'clos of a single day'), and why the wine I'd liked so much was called 'Un Jour Sur Terre' ('one day on earth'). It's pure Malbec, grown on the third terrace of the Lot in a south-facing plot. 'We were very lucky,' says Stéphane. 'When we bought the vineyard we had no idea how good the terroir was.'
He simultaneously discovered that the main challenge of Cahors was, as he summarises it on the domain website, 'the difficult balance between power-concentration and finesse-roundness'. This particular wine is steel-fermented, and Stephane favours a warm, post-fermentation maceration of up to a month 'for long, gentle extraction in the alcoholic phase.' Once malo is over, it then goes into the smallish, 140-litre earthenware jars for 12 to 18 months, depending on the vintage. There's no racking; all the jars are simply tasted and blended when the time comes. Each jar does service for four vintages. (The couple aren't dogmatically anti-oak, either: he makes another wine called 'Un Jour ...' which is oaked.)
The jars were his own idea, and he had them made, beginning in 2003, to his own design by a Castelnaudary potter. They are hand thrown (for thinness, in order to increase exchanges with the air) and made of raw, untreated earthenware. 'It's neutral, has no flavour, but has more porosity than wood. The aim is to round out the wine, but keep the character of the variety and the terroir.'
Of course there is a fundamental difference between the use of jars for fermentation (especially when, loosely inspired by the Georgian example, the fermenting wine is white and includes its skins) and the use of jars for the maturation of wine alone. Further enquiry revealed that a few other wines included in the tasting were aged in this way, but didn't emerge with such high scores. Like every vessel in a wine cellar, thus, jars are not a formula for success, but a tool which works best in skilled hands.
I am, though, a big fan of serious red wines which exhibit this kind of floral grace in their youth – it can be a hallmark of several varieties other than Malbec, notably Syrah – and the way that this wine emerged in this tasting suggested that the skilled use of earthenware jars as a maturation vessel in place of oak casks or tuns of all sorts is an excellent way of achieving this, and a much happier outcome than reduction aromas or the beguiling monotony of evident oak. We may, in other words, be on to something here.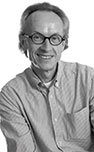 Columnist Introduction
Andrew Jefford is a columnist for both Decanter magazine and www.decanter.com, Jefford has been writing and broadcasting about wine (as well as food, whisky, travel and perfume) since the 1980s, winning many awards – the latest for his work as a columnist. After 15 months as a senior research fellow at Adelaide University between 2009 and 2010, Andrew is currently writing a book on Australia's wine landscape and terroirs. He lives in the Languedoc, on the frontier between the Grès de Montpellier and Pic St Loup zones.
Click here to read all articles by Andrew Jefford>>
- Follow us on Weibo@Decanter醇鉴

and Facebook

for the latest news and updates -
All rights reserved by Future plc. No part of this publication may be reproduced, distributed or transmitted in any form or by any means without the prior written permission of Decanter.
Only Official Media Partners (see About us) of DecanterChina.com may republish part of the content from the site without prior permission under strict Terms & Conditions. Contact china@decanter.com to learn about how to become an Official Media Partner of DecanterChina.com.