Jefford on Monday
If wines were animal species, Philippe Gayral's range would include the kakapo, the Bactrian camel and Spix's macaw. All are critically endangered. Perhaps, though, the rare African ass is a better analogy. Like the magical but shrinking wild ass's skin of Balzac's 1831 novel Peau de Chagrin, the more success Gayral has with his wines, the fewer remain for him to sell.
The business is called Muse; he trades principally in ancient Rivesaltes, with a little Banyuls, too. He's a former co-operative director from this coastal zone of French Catalonia. "Fortified wines here really took off in the early years of the twentieth century, especially with the First World War. It was called vin cuit back then – cooked wine; it was what the poilus, the ordinary soldiers in the trenches, drank." Sweet, warming, nourishing: a little comfort in a joyless world of horrors.
The peak came at the end of the 1950s, when Rivesaltes sold around 60 million litres a year. "Now," continues Gayral, "it's two million and falling fast. The general feeling in Roussillon is that sweet fortified wines are doomed. Since they cost more to make than unfortified wines – you need low yields, you have to add expensive spirit, and then they need to be kept for three years by law and for eight or more to have anything interesting – few individual producers bother anymore." Gayral, though, knew where the ancient stocks were. Indeed he had once been offered a tun of 70-year-old wine, hesitated over it, and later discovered that the producer had sold it to someone else for a few euros per litre. This struck him as tragic. He decided to become Rivesaltes' antiquary.
He only works with domains where there is full traceability of stocks (triply authenticated by the French customs service; the Répression des Fraudes, now called the DGCCRF; and the Roussillon authorities themselves); and is careful to buy wine which is neither too diluted nor too oxidized. Once he finds a wine he would like to sell, further hurdles lie ahead. "It's often difficult psychologically. Those wines are sometimes the only link producers have with their grandparents, with the work of previous generations. They've stopped producing them now. The wines just sat there, waiting for the négociant who never came. It's hard for them to break that final link with the past."
Wasn't it sad, I wondered, being a kind of wine undertaker? "Well, we've sold some good wines at good prices, and we've written some big cheques for people who needed the money. Maybe it could all start again, perhaps with China or Africa. You never know." Pending that, though, the end is nigh: Gayral is about to do his very final bottling of pre-1969 wines, and realizes that he will need another job in the future.
I find these wines enigmatic. They are very harmonious and rounded, but discreet in terms of notes and allusions, and above all much less concentrated than anyone familiar, say, with vintage Madeira might expect from fortifieds from the 1960s, 1950s and earlier. For this reason, I used to wonder about the authenticity of their dates. Philippe Gayral has reassured me on that score – and learning about their production method has gone some way to explain their singular style.
First, they were made as blending components, and never designed to be bottled and drunk on their own. They're also a blend of red and white varieties, with whites often in a majority. Which ones? Above all the undemonstrative Maccabeu (Viura in parts of Spain), with Grenache Blanc, Gris and Rouge: mild from the off. All the fruit is fully ripe, of course, hence low in acidity – whereas Madeira grapes are barely ripe, hence high in acid. There's almost no extraction prior to fortification – and then the wines go straight to sealed glass jars which are stored outdoors for a couple of years.
Thus during their intense period of ageing, best described as maderization since the fierce heat of a Catalan summer plays a key role, there is no evaporation at all – a stark contrast to canteiro ageing for Madeira. After that, they are stored in very large wooden tuns in cellars (much cooler environments than a Madeira lodge), meaning once again a much slower evaporative rate of just 1-2 per cent per year. As they age further, they are put into demi-muids.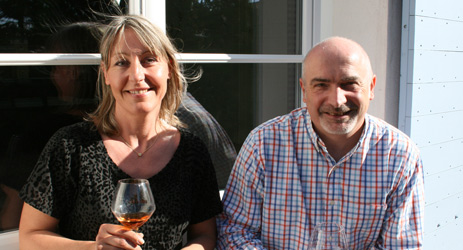 I tasted a range of seven with Philippe Gayral and his wife and business partner Sandrine. Typically, these wines seem to smell of dust, honey, tobacco leaf, hessian and a little shy dried fruit; they taste graceful, balanced, gentle and harmonious. The polished, refined oxidative character known as rancio is their most prized character; it's also a hallmark of old Cognac. That harmonious balance, plus their generally light fortification (15.5%-16.5%) makes them very easy to drink.
All of that said, the greatest single wine I tried was stronger (18%), and the oldest of all: the 1935 Ch Mossé, with its mosaic of dried fruits and arresting, Verdelho-like balance. (Farr Vintners in the UK carries a huge range of Gayral's finds; this wine has an in-bond price of £45 per bottle.)
Gayral also showed me the modern, extracted, almost unoxidised 2009 Maury he had made with winemaker Stéphane Gallet of Roc des Anges, and I loved it: black fruits, fresh leather, succulent plums, powdered cocoa, softly textured depths. He called it Le Passage – partly because he hoped it might be a passage into a new career, but partly because he suspected it might be pas sage: not wise. Sure enough, it has been difficult to sell. The wild ass's skin keeps shrinking.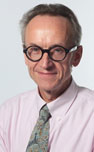 Columnist Introduction
Andrew Jefford is a columnist for both Decanter magazine and www.decanter.com, Jefford has been writing and broadcasting about wine (as well as food, whisky, travel and perfume) since the 1980s, winning many awards – the latest for his work as a columnist. After 15 months as a senior research fellow at Adelaide University between 2009 and 2010, Andrew is currently writing a book on Australia's wine landscape and terroirs. He lives in the Languedoc, on the frontier between the Grès de Montpellier and Pic St Loup zones.
Click here to read all articles by Andrew Jefford>>
- Follow us on Weibo@Decanter醇鉴

and Facebook

for the latest news and updates -
All rights reserved by Future plc. No part of this publication may be reproduced, distributed or transmitted in any form or by any means without the prior written permission of Decanter.
Only Official Media Partners (see About us) of DecanterChina.com may republish part of the content from the site without prior permission under strict Terms & Conditions. Contact china@decanter.com to learn about how to become an Official Media Partner of DecanterChina.com.