Jefford on Monday
Five late September days in the Chinese vineyard regions of Ningxia and Wuhai was all it took to make me realise the tameness of the western larder, the placidity of western drinking practices and the total irrelevance of 'wine-and-food matching' to the Chinese gastronomic experience. Along the Yellow River, things are very different.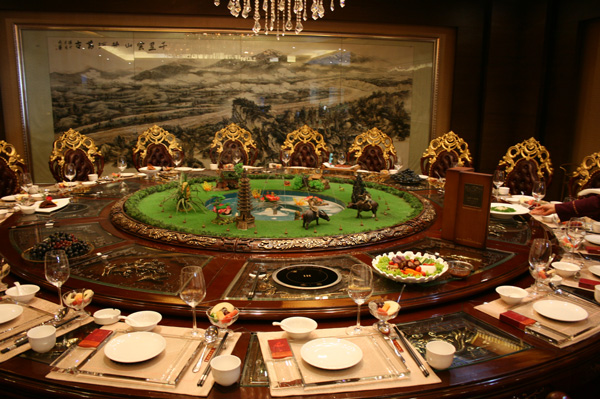 Ningxia has recently become the most scrutinised of China's wine regions (more on its wines soon). Like its smaller neighbour Wuhai, just over the provincial border in Inner Mongolia, it's an oasis in the southern Gobi desert. 'Islamic food' said the foil on top of my hot China Airways meal as I flew west from Beijing -- Ningxia is known for its Hui Moslem minority, and many of the often astonishingly good local restaurants don't serve alcohol. No one seemed nonplussed, though, if you brought your own.
The local food speciality is sheep meat served in a variety of different ways including what our forebears would surely have called boiled mutton, served with raw, juicy young garlic which you recklessly peel and chew by the clove; in Wuhai, meanwhile, lamb can arrive as a lacquered whole beast, head included. When we tried a braised leg there, its gelatinous hoof was un-severed and there for the picking. That, though, was a mere whisper of the week's thrills.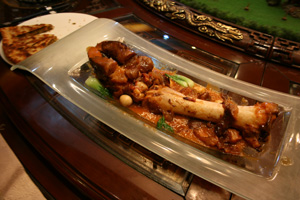 Image © Andrew Jefford
Chinese food is so exciting because you never know what's coming next, and because the embrace of texture as well as flavour seems to extend the repertoire so dramatically. Without trying particularly hard, five days gave me the chance to eat pig skin jelly, jellyfish itself, lots of crunchy-slippery bracket fungus and 'peach gum' (made from peach-tree resin). At one lunch, I reached out for what I thought was caramelised carrot, only to be told (as I crunched the unexpected gristle) that it was a dish of goose-foot tendons. What looked like a bowl of pasta turned out to be a salad of papaya and courgette, extruded into long strips. A salad of coriander stems concealed the texture contrast of frilly garters of lamb tripe. Vegetables included luffa shoots, mulberry-tree shoots, kailan, chive stems and a pile of tiny jewel-like cucumbers, still with their flower heads attached. I ate my first sea cucumber (not a vegetable but a scavenging echinoderm whose soft, amply nippled exterior conceals a hollow core) in a kind of yellow soup of boiled wheat grains; I helped myself to a spoonful of fish lips; only bullfrog proved elusive.
You can't 'match wine' to this kind of multi-millennial omnivorousness; it's not unusual to have half-a-dozen or more different preparations on one plate, and each of those may have half-a dozen ingredients and be cooked and sauced in a contrastive manner. That very European notion of eating just one 'dish' at a time, each swallow of which is framed and cosseted by a sip of some perfect wine partner, is simply inappropriate here -- because of the carnival of flavour, and because that's not the way that the Chinese like to drink wine.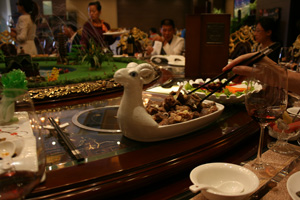 Image © Andrew Jefford
There are no courses, first of all. There is cold food waiting when you sit down; then a succession of hot dishes arrives more or less randomly; then you end with starchy food to fill up any spare gaps. Forget dessert. There is, though, a punctuating rhythm to any kind of formal or business meal (which tend to be those at which wine is served); indeed it's almost a dance.
The host(s) and leading guests take walks around the table during the course of the meal, proposing toasts; the lesser guests jump up and down, responding to the toasts. (It can also be done table-wide, in which case those unable to chink glasses with the diners opposite merely tap them against the revolving service disc in the middle of the table, which is usually made of glass.)
The result is that you don't autonomously 'sip' with your food in the western sense; to do so would be an impolite self-pleasuring. Instead the wine is consumed on your feet and well away from the flavours of food, in rather large mouthfuls, as a climax to excited bouts of lyrical, optimistic, fortune-inducing and life-affirming oratory from each of those involved in the toast. There's no need to drain your glass if you don't hear the words 'ganbei' – though in fact the banqueting waitresses we encountered poured just enough for one large sip into each glass at one time, assuming that it would always be drained during the next toast (and further frustrating any surreptitious western sippers). It is, in fact, similar to Georgian practice, though the Georgians nominate an appointed toastmaster called a tamada. This, perhaps, is the way wine has always been drunk along the hazardous Silk Road.
I'm almost sure, by the way, that I got up from the table having drunk considerably less at most meals than I would have done under libertarian western rules. This is one reason why the Chinese government is keen on encouraging wine (putaojiu) in place of the more traditional spirit drinks (baijiu). The guests leave in straight lines.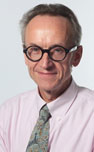 Columnist Introduction
Andrew Jefford is a columnist for both Decanter magazine and www.decanter.com, Jefford has been writing and broadcasting about wine (as well as food, whisky, travel and perfume) since the 1980s, winning many awards – the latest for his work as a columnist. After 15 months as a senior research fellow at Adelaide University between 2009 and 2010, Andrew is currently writing a book on Australia's wine landscape and terroirs. He lives in the Languedoc, on the frontier between the Grès de Montpellier and Pic St Loup zones.
Click here to read all articles by Andrew Jefford>>
- Follow us on Weibo @Decanter醇鉴

and Facebook

for the latest news and updates -
All rights reserved by Future plc. No part of this publication may be reproduced, distributed or transmitted in any form or by any means without the prior written permission of Decanter.
Only Official Media Partners (see About us) of DecanterChina.com may republish part of the content from the site without prior permission under strict Terms & Conditions. Contact china@decanter.com to learn about how to become an Official Media Partner of DecanterChina.com.