How tastes in wine develop over time, and how one can learn to recognise quality in the budding stages of wine appreciation? Here are some tips from Jennifer Docherty MW...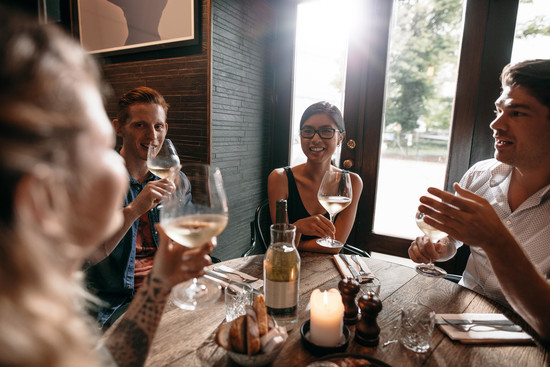 Chinese New Year is around the corner, while Gregorian New Year has just passed. I was in Vancouver with family and friends for the holidays. On Christmas Eve, I opened a bottle of one of my favourite wines to share with my parents, the beautifully scented Domaine Jamet Côte Rôtie 2012. This ethereal wine is increasingly difficult to find, so shhh, keep it to yourselves. Apologies to Jamet fans by letting others in on our secret, sharing is caring. As luck would have it, despite being sold out in the UK and unavailable in Hong Kong, BC (British Columbia) Liquor Stores receives an allocation. When I left, they still had some 2014s available in store.
My parents appreciated the wine, my mother more than my father, but it did not elicit immediate adoration. I thought back to the first time I tasted Jamet and I was not immediately spellbound. However, I recognised that I was in front of a finely made wine, but I did not love it as much as I do now.
This caused me to reflect on how tastes in wine develop over time, and how one can learn to recognise quality in the budding stages of wine appreciation.
I will share the advice I gave my brother and his friends at an introduction to wine tasting I hosted over the holidays. As a pair, I presented Cono Sur Bicicleta Cabernet Sauvignon from Chile 2017 and Vasse Felix Filius Cabernet Sauvignon 2013 from Margaret River, Australia. The exercise was for the tasters to determine which wine was of a higher quality level and price. The price of the Cono Sur Bicicleta Cabernet Sauvignon was half of the Vasse Felix Filius Cabernet Sauvignon. The audience was split. The Cono Sur had a burst of berry fruit on the front palate and was immediately appealing while the Vasse Felix was more layered and complex, raising eyebrows. Once dissected, they went back to their glass and were able to recognise the difference in quality.
Explaining the how to taste and communicate quality is challenging. The Masters of Wine tasting exam quality assessment circles around the words balance, length, intensity and complexity, which is a good place to start.
Balance refers to the overall harmony of the wine on the palate. The aim is to have a wine that is harmonious where no single element such as acidity, alcohol, oak or tannins, reigns over the others.
Length refers to the persistence of the flavours that linger on the palate after the wine leaves your mouth whether through spitting or swallowing. The general rule is that the longer the flavours linger, the better the quality.
Intensity refers to the concentration of the flavours on the palate, like weak versus strong tea. When fewer tea leaves are used, the tea has lighter flavours in comparison to when you use more tea leaves, resulting in a stronger more concentrated brew.
Complexity refers to the mosaic of flavours whether they are primary, from the fruit; secondary, from the oak; or tertiary, from age. We sometimes use the term layered complexity to describe a wine with seemingly successions of flavours, giving the illusion of depth. This concept can be compared to store bought powdered chicken broth cubes in comparison to simmered chicken with bones in soup. The latter is much more complex in flavour, whereas the former is simpler and one dimensional.
Together these elements will enable you to assess quality. You can practice quality assessment by tasting two wines from the same producer side by side. This should be fairly easy because many producers have ranges with tiers of the same grape variety at different price points. Purchase one that is the least expensive to taste alongside one that is more expensive to see if you can spot the difference.
In regards to the Cono Sur Bicicleta Cabernet Sauvignon and the Vasse Felix Filius Cabernet Sauvignon, the Vasse Felix had perceivable length, concentration and complexity above the Cono Sur Bicicleta. It was also developing tertiary aromas being from the 2013 vintage versus the 2017 vintage of the Cono Sur. A wine's ability to develop those appealing tertiary aromas (in this instance: autumn leaves, dark chocolate, baked fruits) is also a sign of quality.
That raises another question that I get often: how do you know which wines can age?
There is a false belief that all wines can age and the older they are, the better and more value they gain.
When I was working in fine wine, I often answered calls from individuals that wanted to sell their old wines. Unfortunately, many of the wines offered were past their best and never should have been kept as long.
Although it can be difficult for the novice wine drinker to determine how long to age their wines, expert advice is readily available from your retailer or online.
Fortunately, the best way to learn is through experimenting by opening bottles and enjoying (testing) the wines to determine what is the right stage of development for you. Not everyone appreciates the tertiary aromas that come with age, some prefer to drink wines in their youth, it is a matter of personal taste.
Some grape varieties age better than others (this is not an exhaustive list) such as: Riesling, Chenin and Chardonnay for whites and Nebbiolo, Cabernet Sauvignon, Syrah and Pinot Noir for reds. Their ability to age is dependent on their quality level because balance and intensity are necessary components that enable the flavours to develop beautifully with age. Price is an unreliable indicator in this instance because many wines costing much less than a classed Bordeaux or Grand Cru Burgundy can age as long and be as rewarding. I will share some of them with you in the coming New Year.
Translated by Sylvia Wu / 吴嘉溦
All rights reserved by Future plc. No part of this publication may be reproduced, distributed or transmitted in any form or by any means without the prior written permission of Decanter.
Only Official Media Partners (see About us) of DecanterChina.com may republish part of the content from the site without prior permission under strict Terms & Conditions. Contact china@decanter.com to learn about how to become an Official Media Partner of DecanterChina.com.