Chateau Dauzac
5th Cru Classe, 1855
1 avenue Georges Johnston
33460 Labarde
+33 (0)557 88 32 10
www.chateaudauzac.com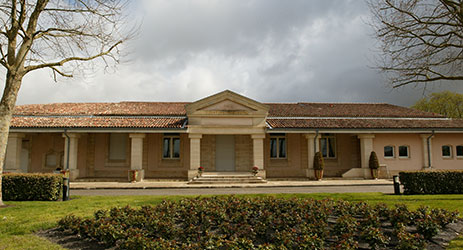 Location: AOC Margaux, in the commume of LabardeProduction: 45 hectares.
Five things you didn't know about Chateau Dauzac:
- In the 1940s, Dauzac was owned by Jean-Jacques Bernat, an ice maker, who applied his knowledge of temperature control to the vats by balancing blocks of ice over the wine. This makes Dauzac one of the first properties in Bordeaux to monitor temperature during fermentation (thermoregulation became standard only in the 1970s).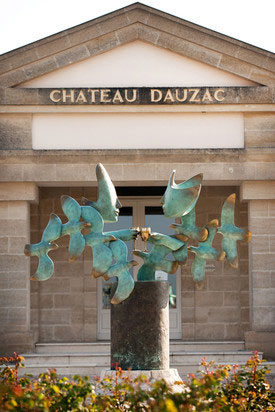 - The sculpture by Etienne that stands outside the main entrance, of a flock of birds surrounding two women holding a cup called 'La Dégustation a Dauzac', was cast in bronze, weighs 350 kilos, and has a blue tint as a nod to the colour of bouillie bordelaise – the 'Bordeaux mixture' that saved the region from devastation by powdery mildew in the late 19th century, and that was invented here.
- Managing director Laurent Fortin joined Charteau Dauzac in 2013 to replace Christine Lurton-de Caix who will retire as president in June 2014. Before this, Fortin previously worked as managing director of Plaimont Producteurs, founded by André Dubosc and known as France's highest quality cooperative cellar.
- Owner in the 1800s, Jean-Baptiste Lynch, was awarded the title Count Lynch by Napoleon for showing loyalty after the French Revolution, but in 1814, encouraged by Bordeaux merchants who were suffering from the economic paralysis brought on by the Napoleonic wars, he became the first mayor of a large French town to jump ship and swear allegiance to Louis XVIII - the monarch who was waiting to return to the French throne. And to prove his loyalty, he opened the gates of Bordeaux to English troops who were advancing northwards after having chased the Napoleonic army from Spain (if he hadn't done so, Charles Palmer would never have been able to buy Chateau Palmer, but that is of course another story entirely). As a reward, when Louis XVIII was (briefly) restored to his throne, he made Lynch a Peer of France.
- €3 million has been invested over the past few years to totally renovate the winemaking and reception areas of the chateau.
Current owner: MAIF Insurance since 1988.
Most notable previous owner: Nathaniel Johnston, who in 1885, after years of research, perfected the formula for 'bouillie bordelaise', or Bordeaux Mixture, which was to remain for decades the only way to fight downy mildew, and one which is still used today by organic growers. It was in fact his botanist Alexis Millardet, working with chemist Ulysse Gayon and Dauzac's estate director Ernest David who came up with the formula, but it was Johnston's money that allowed for much of the research (trying it out at his two properties of Dauzac and Ducru-Beaucaillou), and his enquiring mind that encouraged the team to keep going. And anyway, don't the owners always take the credit for these things?
Other chateaux owned: The MAIF also owns just one small five hectare plot of vines in the Haut-Médoc appellation called Chateau Labarde.
Commercial strategy: 100% négociants, sold 90% en primeur through the Place de Bordeaux.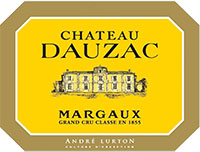 Second wine: Aurore de Dauzac, made from young vines.
Through the centuries:
Dauzac has roots back to the Benedictine Abbey of Bordeaux that was founded in the 11th century. In the middle ages, it was the monks who were the main winemakers in the Médoc, and this was part of their lands until 1622, when it passed to Jean Cousseau and his family, a lawyer for the Bordeaux parliament. His wife took over after his death, but was unable to keep the estate from sliding into financial ruin, and it was eventually seized by debtors and sold at auction in 1671 – when it passed back into religious hands, this time to a group of Carmelite nuns under the Mother Guérin. Just four years later, on July 28 1645, they sold it to Pierre Drouillard, a wealthy shipowner and merchant in the Saint-Michel neighbourhood of Bordeaux. Drouillard invested heavily in Dauzac, and built the gorgeous maison de maître chateau that exists today, as well as building new cellars. On his death in 1708, the estate passed to his daughter Elisabeth, who was married to the Irish Thomas Lynch of Chateau Lynch-Bages in Pauillac. Thomas, then his son Jean-Baptiste Lynch ran Dauzac with great love and attention (Jean-Baptiste also became mayor of Bordeaux from 1809 to 1815, showing how fully integrated into local life this Irish family had become). Jean-Baptiste Lynch died on the estate in 1836. Five years later, and Dauzac was sold to Thomas Diedrich Wiebroock, and it was under this owner that the estate was awarded a 5th Growth classification in 1855.
The next significant proprietor was Nathaniel Johnston III, a Bordeaux wine merchant who bought Dauzac in 1863, and would usher in its most glorious years, where from 1870 to the outbreak of World War One it became a kind of laboratory for viticultural experiments. This was mainly because Nathaniel's son, Nathaniel IV, was an engineer who was obsessed with searching out ever better way to make wine, and to guard against the onslaught of vineyard diseases that were sweeping Bordeaux in the late 19th century. He was helped by his vineyard director Ernest David, who worked with Alexis Millardet at the faculty of sciences in Bordeaux. It was here that Millardet and David came up with the 'bouillie bordelaise' or Bordeaux Mixture, which proved to be the only effective tool in the battle against mildew. It was taken up by estates all over Bordeaux – and later worldwide – and made Dauzac one of the most celebrated properties in the region.
World War One brought in another period of great change, with various owners including Jean-Jacques Bernat who had made his money in the ice and ice-cream industry but knew very little about vineyards. However, he did apply his knowledge of temperature control to the winemaking vats, using chunks of ice suspended over the top of the wine to keep temperature low during vinification. In 1978, Dauzac was bought by the Groupement Fonciere Agricole Félix Chatellier et fils, who again began to invest more widely in the property, and bought on legendary consultant Emile Peynaud. The next – and most recent – step came in 1988, with the sale to insurance company Mutuelle 'dAssurance des Institueurs de France (MAIF). A few years later, they asked Vignobles André Lurton to assist in the winemaking and running of the estate, with Dominique Thiry Managing Director of the MAIF working alongside them. When Christine Lurton steps down as President in June 2014, Vignobles André Lurton will still be shareholders but will no longer be actively involved in running the property.
Consultant: Eric Boissenot.
Plantation and vineyard work:Cabernet Sauvignon (65%), Merlot (35%), average age 35 years, planted 10,000 vines per hectare. Vineyard is being gradually converted to organic farming. Grapes go through a high-tech destemmer called The Cube.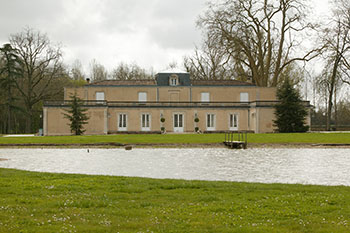 Vinification: Cold maceration, then low temperature vinification at around 28 degrees centigrade to favour the fruit flavours. Gravity-flow winery. Aged in around 70% new oak.
Terroir: Gravel-based soils.
Recent improvements or changes:
The chateau has undergone huge recent improvements since Christine Lurton-de Caix took over as director in 2005, with investments in both the winemaking and in the reception areas. A boutique has recently opened, 250 metres of iron railings have been restored, a new entrance built, fountains and ornamental ponds and lakes added, and a new tasting room. In the vineyard, soil studies have been carried out, new drainage channels installed, plots of vines replanted, leaf surface increased by raising the height of the training system for the vines. In total, around €3 million has been invested.
In conversion to organic growing.
Recent Decanter scores:
2012 en primeur – 16.75 points/20
2011 en primeur – 16.5 points
2010 en primeur – 17 points
2009 en primeur – 17 points
2008 en primeur – 17 points
Average bottle price in UK: £25-£40, depending on vintage.
- Follow us on Weibo @Decanter醇鉴

and Facebook

for most recent news and updates -
All rights reserved by Future plc. No part of this publication may be reproduced, distributed or transmitted in any form or by any means without the prior written permission of Decanter.
Only Official Media Partners (see About us) of DecanterChina.com may republish part of the content from the site without prior permission under strict Terms & Conditions. Contact china@decanter.com to learn about how to become an Official Media Partner of DecanterChina.com.