Chateau La Tour Carnet
4th Cru Classe, 1855
Route de Beychevelle
33112 Saint Laurent Médoc
+33 (0)5 56 73 30 90
www.bernard-magrez.com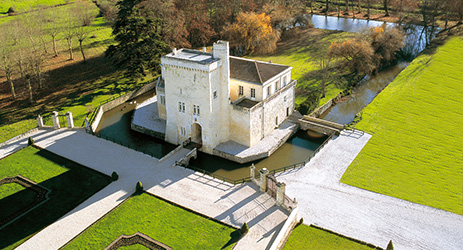 Location: AOC Haut-Médoc, in the commune of Saint Laurent Médoc.Production: 112 hectares of vines.
Five things you didn't know about Chateau La Tour Carnet:
- La Tour Carnet was lived in during the 17th century by Michel de Montagne, a French writer who is celebrated in a variety of statues, paintings and busts dotted around Bordeaux. He also rebuilt the property after it had been almost destroyed at the end of the 100 Years War.
- The military-style 12th century chateau, with its perfect towers and moat, was the epicenter of resistance and anti-French fightin during 100 Years War (see above…). Even 36 years after the war had ended, the Seigneur Jean de Foix, and his faithful servant Carnet, refused to submit to the French, stayed loyal to the English.
- Today the estate is owned by Bernard Magrez, the only owner in Bordeaux to count four classified estates among his spoils; Chateau Fombrauge (cru classé of Saint Emilion), Chateau Pape Clement (cru classé of Graves), Clos Haut-Peyraguey (cru classé of Sauternes) and Chateau La Tour Carnet (1855 cru classé).
- Besides his own properties, Bernard Magrez makes wine with French actor Gerard Depardieu. These include Sine Nomine in Priorat, Spain and Ma Diferencia in Mendoza, Argentina.
- Joel Robuchon, Michelin-starred chef who is a good friend of Bernard Magrez, has come up with an ideal food match for La Tour Carnet… apparently it's christmas turkey stuffed with truffle and chestnut puree.
Current owner: Bernard Magrez.
Most notable previous owner: Count Jean de Foix, who owned the Seigneury of Saint-Laurent in the 13th century. I of course would say that, as an English woman, but still, he did a lot to raise the fame of the estate in its earliest days (when he wasn't battling the French). As a proud Frenchman, perhaps Bernard Magrez might prefer me to choose Michel de Montaigne, one of the country's greatest philosophers and author of The Essays. Montaigne was twice Mayor of Bordeaux, but I'm not sure that he qualifies, as ownership really belonged to his brother-in-law.
Other chateaux owned: How long have you got? Besides the four mentioned above Chateau Fombrauge (Saint Emilion), Chateau Pape Clement (Pessac Leognan), Clos Haut-Peyraguey (Sauternes) and Chateau La Tour Carnet (Haut Médoc), Magrez also owns Isehara (Japan), Hacienda de la Serenidad (Chile), Chateau Malleprat (Pessac Leognan), Chateau Moulin d'Ulysse (Listrac Médoc), Mon Seul Reve (Languedoc), Domaine de la Tranquilité (Languedoc), Bernard Magrez Napa (Napa), and many more. In total he has 40 properties in Bordeaux, Languedoc, Spain, Portugal, Napa, Argentina, Chile, Uruguay, Morocco and Japan.
Commercial strategy: 100% négociants, sold en primeur through the Place de Bordeaux.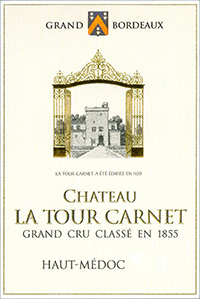 Second wine: Les Douves de la Tour Carnet, Sire du Chateau La Tour Carnet. They also make a white wine, Chateau La Tour Carnet Blanc (33% Sauvignon, 29% Sauvignon Gris, 33% Semillon, 5% Muscadelle).
Through the centuries:
The origins of this estate date right back to the 12th century, a rarity for the Médoc where many chateaux were built in the 17th century. Although we are not sure who first built it, we do know that it was used by the English to battle the French who annoyingly wanted to wrestle the region back out of English domination. The round tower was built in 1120 (as a dove cote, hence the name of the second wine), while the vineyard came a little later. We have a record that in 1407, when the property was owned by the de Foix family, wine from Chateau Saint Laurent was sold for 36 crowns, compared to 6 crowns for a Graves wine. Jean de Foix died in 1486, and his squire Carnet was executor of his will. He spent some time holed up in the chateau, refusing to surrender to the French, until he was defeated by Beau Dunois, a companion of Joan of Arc. The estate was partly destroyed on the King of France's orders, but Carnet got to live on through the chateau's name.
The next serious owner came along in the 16th century, when Michel de Montaigne's brother in law, Thibault de Carmaing, bought the estate. From here it passed into the hands of a Swedish wine merchant, Charles de Luetkens, reflecting the changing society in Bordeaux, with more and more foreigners arriving to trade in wine. Luetkens had a wine business on the quays of Chartrons in downtown Bordeaux, as well as his country wine property up in the Médoc, and both he and three centuries of his descendants did a lot to build up the renown of the property.
In 1855, La Tour Carnet was owned by Angélique Raymond, Jean-Jacques Luetkens wife. It was declared a 4th Growth, with 52 hectares of vines. From here, it passed to their son Charles-Oscar de Luetkens, but the problems of Phylloxera in the vines did their damage here, as in so many neighbouring properties. It wasn't until 1962 that La Tour Carnet was bought by Louis Lipschitz, and then his daughter Marie-Claire Pellegrain. It was these two who replanted the vineyard, bringing it back up to 45 hectares, while the winery buildings were enlarged and modernized. Since Magrez has taken over, the investment has continued with gusto, and the vineyard now counts 112 hectares.
Consultant: Michel Rolland, as for all Bernard Magrez estates.
Plantation and vineyard work:Cabernet Sauvignon (35%), Merlot (61%), Cabernet Franc (2%), Petit Verdot (2%), average age 30 years, planted to 8,000-10,000 vines per hectare. Hand-harvesting. Yields are 45 hectolitres per hectare.
Vinification: Since 2011, the harvest is cooled down to 8˚C in a cryogenic tunnel that flows liquid azote over the grapes without crushing or damaging them in anyway (what this means basically is a high-tech version of a cold soak). Large oak vats for vinification, with grapes put into the vats without crushing. Manual punching down. Ageing in oak barrels (55-70% new) for 18 months with regular lees stirring.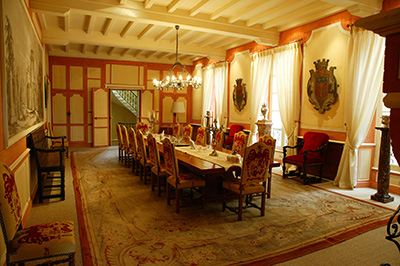 Terroir: Clay and limestone, covered with a layer of Gunzian gravel. This is a good example of how man's intervention can have an effect on terroir. Before Magrez owned the estate, it was in the hands of a woman called Marie-Claire Pallegrain. The technical director at the time was Olivier Dauga (now a consultant), and he found that the place was too exposed, so planted a wide variety of trees as wind-breaks, and carried out extensive drainage work.
Recent improvements or changes:
As already mentioned, one of the latest innovations is the cryogenic tunnel that cools grapes down to 8˚C by using liquid azote.
La Tour Carnet can also be visited as part of the Magrez wine tourism programme. Do don't get much more upscale than this in Bordeaux – you can choose to arrive by helicopter or Rolls Royce.
This is also a vineyard with ambitions of scale – the area under vine has gone from 73 hectares to 112 hectares in just a few years. This takes it, like fellow 4th Growth Talbot, into the 100+ Hectare Club alongside chateaux such as Lafite Rothschild, Yquem, Ducru-Beaucaillou and Lascombes.
Recent Decanter scores:
2012 en primeur – 16.5 points/20
2011 en primeur – 16.5 points
2010 en primeur – 17 points
2009 en primeur – 16.5 points
2008 en primeur – 17 points
Average bottle price in UK: £20-£35, depending on vintage.
- Follow us on Weibo @Decanter醇鉴

and Facebook

for most recent news and updates -
All rights reserved by Future plc. No part of this publication may be reproduced, distributed or transmitted in any form or by any means without the prior written permission of Decanter.
Only Official Media Partners (see About us) of DecanterChina.com may republish part of the content from the site without prior permission under strict Terms & Conditions. Contact china@decanter.com to learn about how to become an Official Media Partner of DecanterChina.com.