China's main sources of wine grapes are currently Xinjiang, Shandong and Hebei, and Cabernet Sauvignon is one of the key varieties being planted across China's young wine regions, shows one of the first official reports on the subject.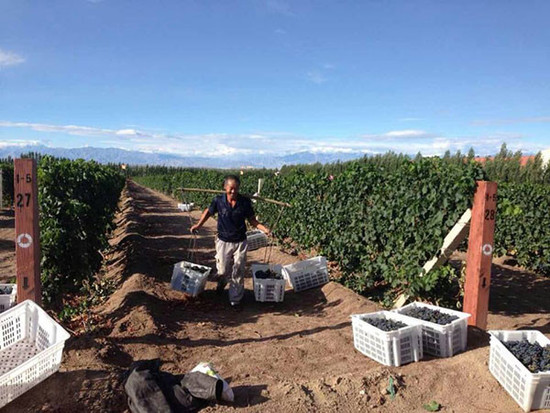 Image: harvest in Xinjiang © Li Demei
Nine areas are identified in the government report as key winemaking regions in China, and these are:
• North East China
• Changli (Hebei)
• Jiaodong Peninsula (Shandong)
• Huai Zhuo Basin (Hebei)
• The Loess Plateau
• Xinjiang
• The Gansu Corridor
• Ningxia Helan Mountain East
• Southwest China
DUAN Changqing, chief scientist of China Agriculture Research System for Grapes and Wine industry, outlined the regions at a trade conference organised by China National Food Industry Association last month.
But, China's key wine production regions, and the most suitable grape varieties for them, are still a work in progress.
'The "wine regions" people are customarily talking about are actually administrative divisions,' noted LI Demei, Chinese wine authority and DecanterChina.com columnist.
Besides Jiaodong Peninsula of Shandong, Xinjiang is also one of the top sources of wine grapes, said Duan Changqing.
Out of the total 1,560,000mu (104,000 ha) of grape vines planted in the region, 250,000mu (16,667 ha) are used for winemaking, with the majority being Cabernet Sauvignon, Cabernet Franc and Chardonnay. The approximate volume of production is 100,000 tons of wine per year, said Duan Changqing.
Changli of Hebei Province currently has 300,000mu (20,000 ha) of land under grape vines, one third of which are wine grapes. Cabernet Sauvignon, Merlot, Chardonnay, Cabernet Franc and Syrah are the main varieties of the region, with the total wine production hitting 70,000 tons per year, said the viticultural scientist.
Also from Hebei Province, the Huai Zhuo Basin owns 70,000mu (4,667 ha) of wine grapes, with Dragon Eye, Cabernet Sauvignon and Chardonnay as its key varieties. Every year the region produces 50,000 tons of wine.
Ningxia, as one of China's most renowned young fine wine regions, has so far planted 80,000mu (5,333 ha) of wine grapes in the Helan Mountain East area, producing 40,000 tons of wine each year, Duan said.
In a report released in April this year, the Paris-based International Organisation for Vine and Wine (OIV) said that China has 799,000ha of land under vine, indicating China has more vines than France.
However, China Alcoholic Drinks Association (CADA) corrected the report saying that out of the 13,000,000mu (867,000 hectares) under vine in China, only 10% are planted with wine grapes. The rest is made up by table grapes, stressed officials.
Due to the lack of traditional experience and research on choosing the most suitable wine grapes, '[it was considered that the] (international) "star varieties" or the most commercialised varieties would clearly make better business sense for the growers,' said Li Demei. This resulted in the wide plantation of international varieties lead by Cabernet Sauvignon.
'We still don't know for certain whether China has another Cabernet Sauvignon sweet point, but one thing we do know is that not every region planting this grape is a perfect fit,' he said.
'Finding a unique identity' has become a central task for Chinese quality winemakers, said GUO Ying, senior sommelier of Four Seasons Hotel China and judge of Decanter Asia Wine Awards (DAWA) at the 2015 Decanter Shanghai Fine Wine Encounter.
All rights reserved by Future plc. No part of this publication may be reproduced, distributed or transmitted in any form or by any means without the prior written permission of Decanter.
Only Official Media Partners (see About us) of DecanterChina.com may republish part of the content from the site without prior permission under strict Terms & Conditions. Contact china@decanter.com to learn about how to become an Official Media Partner of DecanterChina.com.