Vines were first brought into Chile in the 1550s by Spanish conquistadors. This long and narrow strip of land, which lies on the west coast of South America bordering Peru, Bolivia and Argentina, is now the continent's largest exporter of wine, especially known for its reasonably priced, quality international-variety styles.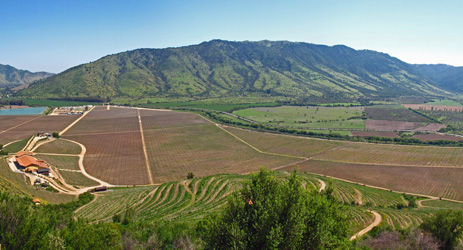 The geographic and climatic conditions of Chile set it apart from all other wine producing countries, with the land facing the Pacific to the west and the steep Andes Mountain at its back. Although latitude-wise Chile is similar to North Africa, thanks to the cold current from Antarctica and the chilling breeze from the Andes, vineyards in central Chile enjoy a cooler, more viticulture-friendly climate.

Chile benefits from dry summers and geographic isolation and remains phylloxera-free. The lack of disease and almost perfect viticulture conditions are encouraging more winemakers to produce organic wines.
The vines planted in Chile are predominantly classic "noble" grape varieties. The most widely planted red variety is Cabernet Sauvignon, which is especially suitable for the warmer regions such as Maipo Valley and Colchagua Valley, producing fruity wines with soft tannins. Merlot and Carmenere, grapes that have recently gained more popularity as a modern wine variety, are also important in Chile. Other internationally recognised varieties, such as Syrah, Pinot Noir, Cabernet Franc and Malbec, are also gaining momentum. Sauvignon Blanc and Chardonnay are the dominant white varieties planted in comparatively cooler regions such as Casablanca Valley, San Antonio Valley and Limari Valley.