Jefford on Monday
You may, over the next few weeks, begin to pencil out a holiday plan for 2014. It may involve a vineyard visit or two. If you're hoping to visit leading addresses in Europe's classic regions, write for an appointment well in advance. And prepare, when the reply comes, for disappointment.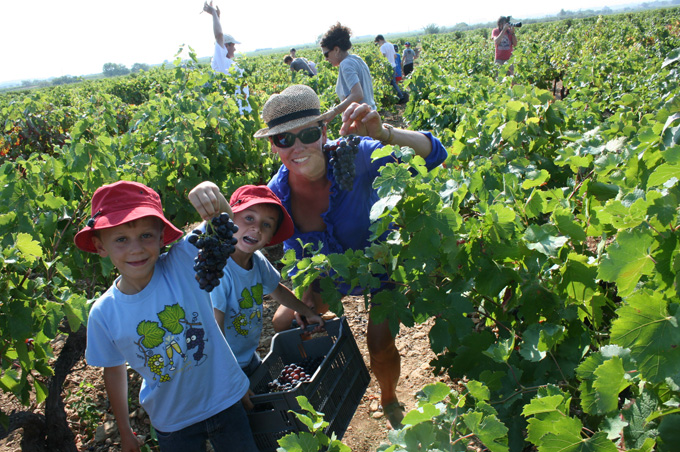 In the Americas, South Africa and Australasia, wine tourism is sometimes the main driver of wine-making endeavour. That's why wine is made in every one of the United States. Tourism keeps the Hunter Valley and Swan Valley in business as wine-producing regions; it fertilizes the contemporary winemaking potential of regions like the Mornington Peninsula, Sonoma, Stellenbosch, Constantia and Franschhoek. Eight of South Africa's 20 best restaurants, astonishingly enough, are found on wine estates.
Why hasn't Gippsland developed at the same speed as the Yarra, despite its evident viticultural potential and the equidistance of the western end of this vast region to Melbourne? Visitors, probably. The Yarra, with its arterial highways, has some of the most successful cellar-door sales in Australia; Gippsland's lonely veins are still the kind of place where you can see 'FARMER SEEKS WIFE' spelled out in white paint on a pile of black-wrapped bales.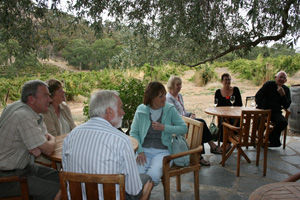 Contrast Europe. Twenty or thirty years ago, it was relatively uncommon for anyone other than wine merchants to visit Bordeaux estates and Burgundy domains; producers were puzzled that consumers would even want to do this, and were sometimes grumpy about facilitating visits. The last two decades have seen an explosion in the global distribution of these wines; new consumers have the money, leisure and desire to visit, explore and learn. As a result, visitor pressure has grown with toadstool velocity. For many producers, indeed, it's reached crisis levels.
Nowhere is this more true than in Burgundy. The size of many domains makes it impossible to receive all those who might wish to visit -- and the run of recent short harvests, combined with burgeoning global demand, means that producers don't have enough wine to fill the order books, let alone pour free samples for a daily stream of smiling, earnest strangers. Domains in the northern Rhône, in Piedmont and on small Right Bank properties in Bordeaux face similar problems. Even the capacious First Growths are wondering how they can deal with the swelling crowds.
It's time, I think, for the Old World to learn from the New. There is still, for example, a reluctance among some European producers to charge for tasting samples, even for visitors who have flown in, eliminating any potential for a direct sale. Welcoming visitors without charge is seen as part of the European wine world's deep traditions of hospitality (or perhaps as a debt of honour once the wines have achieved colossally high retail prices). That's wonderful – but unsustainable, at least without declining the majority of visit propositions.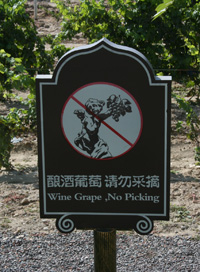 A better idea, surely, is to regard every visitor as a different sort of customer: one that wants to go home with an experience, rather than a bottle. No one minds paying for that – and the more memorable and authentic the experience, the more the visitor will be prepared to pay. We don't, after all, expect free concerts from leading performers, even though we may already have bought piles of their cds.
Larger producers would be able to mount much better visitor facilities than at present if properly remunerated for doing so. Every tasting sample sold on site, remember, is also a direct sale, cutting out profit-taking intermediaries; visitors are prepared to pay handsomely (as Napa producers know) for well-thought-out food-and-wine tastings or library tastings of rarer older vintages in the company of owner or winemaker.
A solution for smaller domains, meanwhile, would be to join up with a group of confrères and run visits on a rota basis, meaning that everyone would take an occasional turn rather than having to cope with or fend off the continual stream. Another system is to confine visits to a series of 'open days' whose sole purpose is to explain and exchange. A central village tasting room or enoteca where every producer's wines can be tasted and bought is very useful for casual visitors or those without appointments, too.
It isn't desirable, of course, for fine wines to be exclusively sold via a cellar door, unless the producer is content with a national reputation alone. International reputation, though, means that the pressure on leading European wine estates to receive visitors will continue to sprout. Each needs a strategy. Making the experience work economically doesn't mean that it has to be contrived or insincere.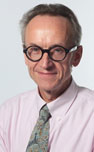 Columnist Introduction
Andrew Jefford is a columnist for both Decanter magazine and www.decanter.com, Jefford has been writing and broadcasting about wine (as well as food, whisky, travel and perfume) since the 1980s, winning many awards – the latest for his work as a columnist. After 15 months as a senior research fellow at Adelaide University between 2009 and 2010, Andrew is currently writing a book on Australia's wine landscape and terroirs. He lives in the Languedoc, on the frontier between the Grès de Montpellier and Pic St Loup zones.
Click here to read all articles by Andrew Jefford>>
- Follow us on Weibo@Decanter醇鉴

and Facebook

for the latest news and updates -
All rights reserved by Future plc. No part of this publication may be reproduced, distributed or transmitted in any form or by any means without the prior written permission of Decanter.
Only Official Media Partners (see About us) of DecanterChina.com may republish part of the content from the site without prior permission under strict Terms & Conditions. Contact china@decanter.com to learn about how to become an Official Media Partner of DecanterChina.com.