Jefford on Monday
I was surprised to discover that I'm living in the biggest Syrah-growing region in the world. This variety is now France's third most widely planted, after Merlot and Grenache, and there's more of it in Languedoc-Roussillon than there is in the Rhône and Provence combined – 43,000 ha compared to 23,000 ha. (Largely, it must be admitted, because the Gard département is regarded as being part of Languedoc-Roussillon.) At a broader scale, France and Australia dominate global plantings of the variety, with 67,000 ha and 42,000 ha of the 180,000 ha found around the world.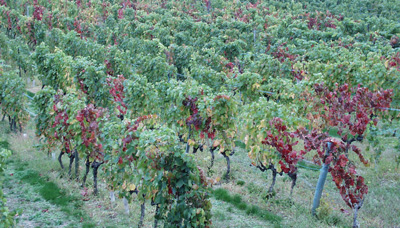 In talking to local Languedoc growers over the last couple of years, I've often heard them mention a disease called dépérissement. This 'Syrah decline' affects no other variety, mysteriously enough. It first became evident in the 1990s. What happens to the vine is that a part of the trunk swells and becomes bulbous, generally around the graft, forming splits and 'crevasses' in the wood. This can carry on for a few years without the vine malfunctioning, but eventually the grower notices that the leaves redden prematurely during summer. After that, vigour falls away quickly and the vine will be dead in a year or two.
The swellings are caused by a cambium dysfunction, while the reddening is due to a build-up of polyphenols and starch in the leaves (pictured below).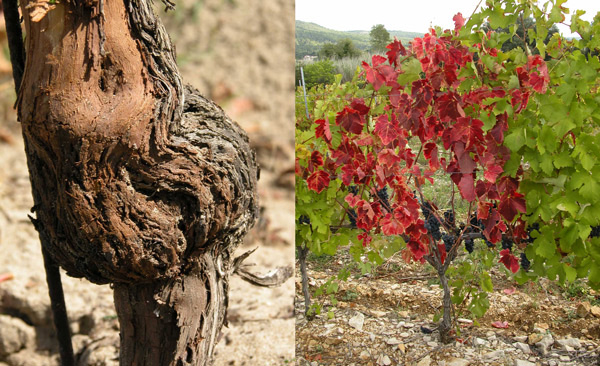 It's hard to get accurate statistics about the number of vines affected. Anecdotally, it would seem as if it chiefly affects recent plantings; perhaps up to 15 per cent of such Syrah vineyards in France. It's present in all Syrah-growing locations – except, significantly, Australia. To try to find out more about it, I went to see Anne-Sophie Spilmont of the Institut Français de la Vigne et du Vin at Domaine de l'Espiguette at Le Grau de Roi in the Gard. Between 2001 and 2009, she worked full-time on this problem.
The early years of detective work seemed to suggest that it wasn't a virus, a fungal disease or a bacterial issue. This distinguishes it from the group of trunk diseases quietly ravaging many vineyards around the world at present. Since the swelling was around the graft, an early hypothesis was that it was a 'mechanical problem' due to the grafting process in some way. In 2009, though, Spilmont's colleagues Laurent Audeguin and Loïc Le Cunff noticed the same problem on ungrafted vines in Chile.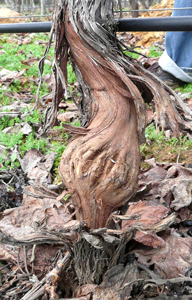 'That called into question our model,' she said. The problems on the ungrafted vines, though, were still in the 'cutting zone' in the early years of the plant's life; and swellings can also occur higher up on the plant, when it has sustained other cutting wounds. The latest thinking now, according to a paper published last October by Spilmont, is that certain clones of Syrah have a genetic susceptibility to this decline, and that the 'cellular reorganisation' caused by pruning or grafting wounds are the catalyst for it. The seven most susceptible French clones (73, 99, 301, 381, 382, 383 and 585) have now been withdrawn from sale, while the three least susceptible (470, 524 and 747) are strongly recommended for new plantings. Three new high-quality, low-susceptibility clones have been available from the end of last year, too: 1140 (from Tain), 1141 (from Condrieu) and 1188 (from Tournon).
Why, though, was Syrah decline never a problem in Australia? 'We know that the original Syrah material wasn't susceptible,' says Spilmont, 'and the Australian mother clones probably came from that original material. The vulnerability to decline seems to have come in as a later mutation. The French Syrah collection of 600 or so clones is at Mercurol [near Tournon], and in fact a minority of those were susceptible. It was just unlucky that so many of the French certified clones proved to be susceptible.'
When I spoke to leading Gigondas grower (and Rhône micro-négociant) Louis Barruol of Château de Saint-Cosme in Gigondas about this issue, though, it touched a raw nerve. 'For me, this just sums up the problem with clones. If you multiply one individual clone, you may have a good plant but you have lost diversity. If the individual is not good or if there is a problem with the process, you multiply the problem like hell - and you lose the diversity anyway. That's what happened here. If you work as our grandfathers worked, taking selections from individual vineyards, you slowly eliminate the bad plants and you maintain diversity. That's why in places like Burgundy, Hermitage and Châteauneuf, the plant material has slowly got much better in the 140 years since phylloxera. There are laws against human cloning. There should be laws against vegetal cloning. As simple as that.'
I think Louis Barruol overstates the case; painstakingly selected, qualitative clones have immense practical value in a rapidly expanding wine world whose new producers are hungry for plant material. As Barruol points out, though, Syrah's mystery ailment illustrates the dangers and hazards inherent in the cloning process.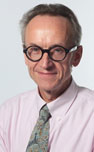 Columnist Introduction
Andrew Jefford is a columnist for both Decanter magazine and www.decanter.com, Jefford has been writing and broadcasting about wine (as well as food, whisky, travel and perfume) since the 1980s, winning many awards – the latest for his work as a columnist. After 15 months as a senior research fellow at Adelaide University between 2009 and 2010, Andrew is currently writing a book on Australia's wine landscape and terroirs. He lives in the Languedoc, on the frontier between the Grès de Montpellier and Pic St Loup zones.
Click here to read all articles by Andrew Jefford>>
- Follow us on Weibo @Decanter醇鉴

and Facebook

for the latest news and updates -
All rights reserved by Future plc. No part of this publication may be reproduced, distributed or transmitted in any form or by any means without the prior written permission of Decanter.
Only Official Media Partners (see About us) of DecanterChina.com may republish part of the content from the site without prior permission under strict Terms & Conditions. Contact china@decanter.com to learn about how to become an Official Media Partner of DecanterChina.com.