Monthly Interview
China's wine market is still seeing rapid development and domestic producers must embrace the challenge, according to the chief winemaker at Changyu, the company that introduced large-scale wine production in the country, in an exclusive interview with DecanterChina.com.
In 1892, Zhang Bishi established Changyu, China's very first industrialised wine producing company, in Yantai, Shandong Province, marking the beginning of industrialised winemaking in China.
In 2015, Changyu debuted at Bordeaux wine trade fair Vinexpo. As the only Chinese wine producer to hold its own stand at the show, the group brought a full line-up of its key wines.
On the last day of the fair, Dr Li Jiming, general engineer (chief winemaker) of Changyu, and Tan Shaoyun, head of the group's export department, spoke to DecanterChina.com about the current state of the group's import and export businesses, as well as giving their own interpretation of the 'new norm' of the Chinese wine market.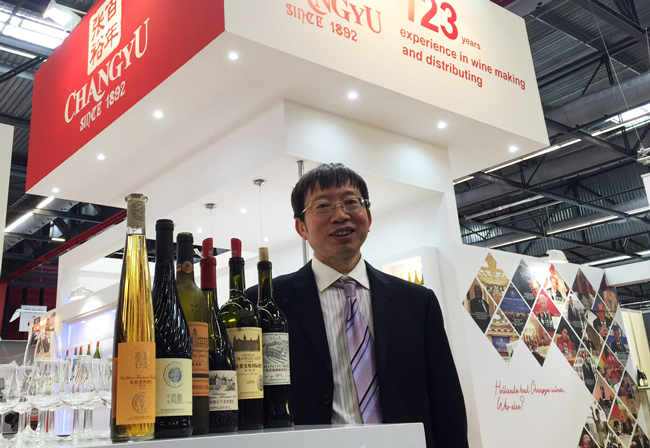 The diversity appeal
The 2013 Bordeaux Vinexpo saw stands of Chinese white spirit (baijiu) producer Maotai, which showed a small amount of its wine produce amongst its full baijiu line-up. Wine producer Yunnan Red, from the Yunnan province, was also present, featuring a range of wines made by local and international varieties.
In the 2015 show, a wine tasting dedicated to Chinese wines was co-hosted by China Alcoholic Drinks Association (CADA) and European Wine Committee (CEEV), attracting further attention from the international trade and media to the country as a wine producer.
In the previous years, Chinese wines saw a 'significant rise in quality' due to improved technology and know-how, said WANG Zuming, head of the wine division of CADA.
As the biggest wine producing company in China, Yantai Changyu Pioneer Wine Company at its debut of the Bordeaux version of the renowned trade fair sought to 'demonstrate the company's diverse line-up to international consumers,' Dr Li Jiming, chief winemaker of Changyu, told DecanterChina.com.
Almost all of Changyu's 'key products' were brought to the show, said Dr. Li.
Among the Changyu wines exhibited at the show, the 'old-world style' high-end range (sold at over £30 per bottle locally) include estate wines made in Changyu's chateaux properties in Yantai (Changyu-Castel), Beijing (Chateau Changyu AFIP Global), Xinjiang (Chateau Changyu Baron Balboa), Ningxia (Chateau Changyu Moser XV) and Shaanxi (Chateau Changyu Rena). The middle-priced 'Changyu Cabernet' range, with a local price between 80-120 RMB (£8-£12) per bottle, was also featured at the stand, along with the 'easy-to-drink' Zui Shi Xian ('the drunken poet') range, which is sold between 20-70 RMB (£2-£7) per bottle.
Also at the stand was Changyu's icewine range, which it said was 'widely popular overseas', its Cognac and brandy range from its purchased French estates, plus its European imported private label range, were all featured at the stand.
During the five-day show, the Changyu stand was content to receive 'a considerable number of visitors' including trade consumers, media and critics, as well as importers and producers seeking for cooperation.
The overseas visitors seem to be especially interested in Changyu's icewine and estate wine range, the 'Panda' range, which was designed for export market, and its late-harvest sweet wine range were also popular to the audience, said Dr Li.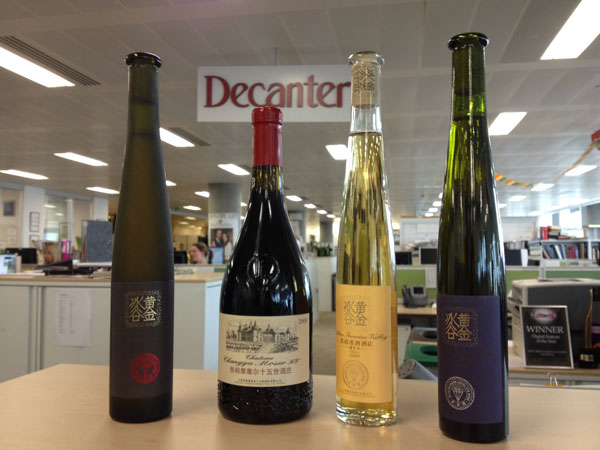 High-end product to lead export market
It is widely agreed that modern wine production in China is still comparatively . Due to the lack of technology and skills amid extra labour cost (such as the need to bury vines in winter in some north-China regions), quality wines are usually produced on top of a high cost in China.
The comparatively high retail price was among the key reasons preventing Chinese wines from achieving further success in the international market, said Jasper Morris MW, senior buyer of Berry Bros & Rudd (BBR).
However, as the pioneer of industrialised winemaking in China, Changyu also seek to become the country's pioneer in the wine export market.
Currently Changyu exports its product to '28 countries in the world', said Tan Shaoyun, head of the group's export business. The company's icewine range and the estate wine range produced in Ningxia and Beijing have been especially 'well-received' in the European market, 'even in the UK market, where consumers are extremely quality-driven', said Tan.
In 2012, Waitrose featured a Chateau Changyu Cabernet Gernischt, priced £9.99, during a special promotion campaign. In March 2013, BBR became the first major UK retailer to give Chinese wines a permanent place on its shelves, currently featuring two red wines from Chateau Changyu Moser XV and two Changyu 'Golden Vally' icewines.
In February 2015, eight Changyu wines, including the lower-priced 'Zui Shi Xian' range, its icewine range 'Golden Valley' and estate wines from its Ningxia, Yantai and Beijing properties were 'selected' onboard the luxury cruise Queen Mary 2, marking the company's latest effort to broadcast its brand image to high-end international wine consumers, announced the Changyu.
'Realistically, our focus is still on the domestic market,' added Dr. Li, 'as this is a market of great potential and rapid development.'
'Younger wine consumers'
In the last few years, Chinese wine producers have suffered from the impact brought austerity policies as well as the flooding-in imported wines.
Changyu wasn't immune from these changes. Its 2014 annual report showed a 3.8% decrease in sales and 6.72% drop in net profit for the year versus the previous 12 months.
Meanwhile, the country's rapid economic development has brought about a 'younger sector of wine consumers and new consumption behaviours'. As a traditional wine producer, Changyu was quick to notice that 'wine is a global product with diverse characteristics; it is an inevitable trend for Chinese people to consume more and more imported wines in the future,' said Dr. Li.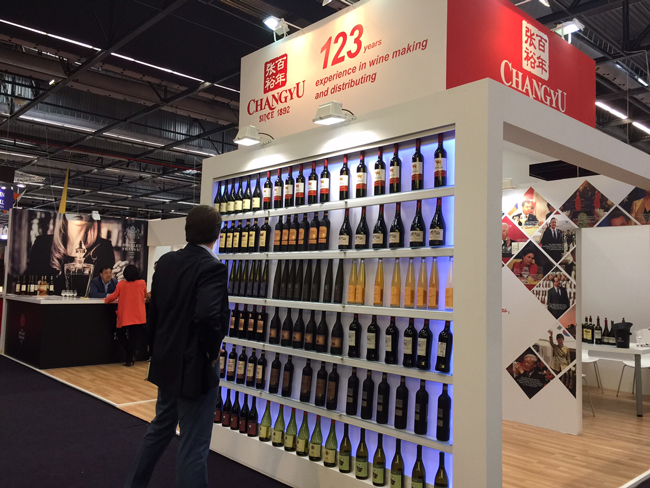 Being aware of the shift of market, this year Changyu plans to invest heavily in its domestic and overseas wine estates, while actively develop its imported wine sector. 'We need to walk with "both legs",' Dr Li said.
The vice president of Changyu, Sun Jian, told local media that the group 'is set to increase the sales of its imported wine sector to 30% of its total sales'.
'As China's biggest wine producing company, first of all Changyu needs to produce characterful Chinese wines,' Dr Li said. 'Meanwhile, as Chinese consumers have needs for foreign-produced wines, and Changyu has a comprehensive wine marketing network in China, we can and would like to fulfil that need.'
In 2012, Changyu launched its 'Pioneer' imported wine shop project, aiming to build 1,000 shops throughout China in three years. However, local media reported that due to various reasons, until now the realisation of the project was far from the the planned speed.
However, bespoke wine shops will remain as the key distribution channel for Changyu's imported wines, said Dr Li in response to the report. 'We firmly stand by this strategy, although the progress of the project might have been adjusted due to our accumulation of experience.'
Besides specialised shops, Chanyu will also utilise its traditional distribution network including shopping malls and hotels. In April 2014, Changyu made a major move into e-commerce by launching its online shopping platform 'Pioneer Wine (jiuxianfeng.com)', seeking to combine its offline outlets to develop O2O (online to offline) wine sales, a popular approach among China's booming e-commerce platforms.
'We aim to push forward our import business quickly,' said Dr Li. 'We are ready to adapt to a globalised wine market with open heart and actions.'
*Minor amendments on export figures and overseas retail prices were made at 9:30GBT June 26th based on suggestions from interviewees.
All rights reserved by Future plc. No part of this publication may be reproduced, distributed or transmitted in any form or by any means without the prior written permission of Decanter.
Only Official Media Partners (see About us) of DecanterChina.com may republish part of the content from the site without prior permission under strict Terms & Conditions. Contact china@decanter.com to learn about how to become an Official Media Partner of DecanterChina.com.