Classification: 3rd Cru Classé, 1855
Contact:
28 avenue de la 5ieme Republique
33460 Cantenac
+33 (0)5 57 88 34 33
www.desmirail.com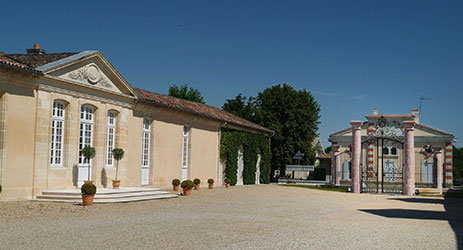 Location: AOC Margaux, in the commune of Cantenac, near to the church.
Production: 40 hectares.
Five things you didn't know about Château Desmirail:
- In the early 20th century, the estate was owned by Robert Mendelssohn, the nephew of Félix Mendelssohn, composer of The Wedding March.
- Château Désmirail was once part of the huge Rauzan estate owned by Pierre Desmezures de Rauzan (that is best known for being at the origin of Rauzan-Ségla and Rauzan-Gassies), until it was separated as part of the dowry of Pierre's daughter when she married a Bordeaux lawyer.
- Desmirail has three vat rooms, each corresponding to a different period in the property's history. The oldest is the gravity-led winery that dates from the late 19th century, when this style of winery was revolutionary. This room has a roof like an upside ship's hull, has held four oak casks since 1999, and is still used for making wine. In 1997, owner Denis Lurton introduced a modern stainless steel vat room, and in 2010 a third smaller vat room was inaugurated, with oak vats, for vinifiying older plots.
- The original château building of Château Desmirail is today owned and lived in by the Zuger family of Maléscot Saint Exupéry (although when they bought it, they used it as the château for D'Alesme Becker, just to further complicate things).
- Current owner Denis Lurton gave up a career in the law to take over the family estate in 1992.
Current owner: Denis Lurton
Most notable previous owner: So much choice, but since I have already mentioned Mendelssohn's grandson, I'm going to go with Demoiselle Rauzan du Ribail in the 1720s. It was after all her marriage to Jean Desmirail that got the estate started in the first place.
Other châteaux owned: Well, if we're talking about the wider family here, the Lurtons are one of the most prolific estate owners in the region. There are three working generations in the region, with 15 members active in wine, 30 vineyards worldwide and 1,300 hectares of vines.
Commercial strategy: 100% négociants, sold en primeur through the Place de Bordeaux.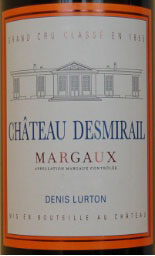 Second wine: Initial de Desmirail, produced from younger vines, but also aged in barrel. The estate also produces Origine de Desmirail and Château Fontarney (same wine as Initial for different markets), and two separate wines; Haut Médoc de Desmirail and Le Rosé de Desmirail.
Through the centuries:
Jean Desmirail was a lawyer in Bordeaux parliament, and became owner of the estate through marriage to Demoiselle Rauzan du Ribail in the 1720s. As was traditional at the time, she brought part of her father's lands with her as a wedding dowry, and he promptly gave them his family name. The château belonged to their family until just before the 1855 classification, when it was bought by Mr Sipiere, the estate manager at Château Margaux, meaning that he got his name on the all-important listing.
After Mr Sipière died, Desmirail moved into the hands of Robert Mendelssohn, nephew of the famous German composer, who kept the château until the First World War, when it was confiscated as enemy property. It was then sold to Martial Michel, a glove maker from the north of France who kept things going until the late 1930s. Financial troubles meant that Michel effectively closed it down, selling the château building to the Zugers (owners of Malescot Saint Exupéry, whose descendents still live there today). The vines, and the brand name, went to the owners of Château Palmer – who used the name Desmirail as a second wine in 1963. 'From here, in 1980, the brand name was bought by Lucien Lurton, reuniting the name with vines that he and his father had bought in Margaux, many from the original plots of Desmirail. From this point on, Château Desmirail as a working entity was reborn, with 1981 as its 'first' vintage.
Lucien ran the show until 1992, when he divided his 10 estates between his 10 children - asking them to write down their first three choices of property, and then making his decision which to give to which child. Denis, a qualified lawyer and then aged 33, was the lucky recipient of Château Desmirail.
Consultant: Jacques Boissenot, with Pierre Lafeuillade as Technical Director.
Plantation and vineyard work: Cabernet Sauvignon (70%), Merlot (29%), Petit Verdot (1%), planted to 9,000 vines per hectare. Grapes are grown using sustainable viticulture, which means targeting treatments and only using the minimum, and least invasive methods. Soils are ploughed traditionally and all treatments adapted to plot, variety and weather conditions. Grapes are handpicked by a team of 60.
Vinification: Vinified plot by plot, in oak and stainless steel vats (wooden vats preferred for the older vines) in one of three vinification rooms. Blending of the wines is carried out in November, so very soon after the harvest, before the ageing process (in one of three ageing cellars) is begun. Wines are then aged in barrel, with around 30-40% new oak each year, for at least 12 months. Wines are fined with the traditional method of egg-whites before bottling.
Terroir: Classic Margaux gravel, creating warm soil that allows for full ripeness of the Cabernet Sauvignon (a full 70% of plantings here, fairly high for an AOC Margaux estate).
Recent improvements or changes:
Two of the three vinification cellars are recent additions, ensuring there is capacity for highly detailed plot by plot work for both the first and second wine.
Excellent wine tourism programmes have also been recently introduced at the estate, including a cheese and wine tour, an aroma tour, and a luxury tour where you taste old vintages, again with a selection of cheeses.
Recent Decanter scores:
2012 en primeur – 16.75 points/20
2011 en primeur – 17 points
2010 en primeur – 16.5 points
2009 en primeur – 16.5 points
2008 en primeur – 15.5 points
Average bottle price in UK: £16 – £40, depending on vintage.
All rights reserved by Future plc. No part of this publication may be reproduced, distributed or transmitted in any form or by any means without the prior written permission of Decanter.
Only Official Media Partners (see About us) of DecanterChina.com may republish part of the content from the site without prior permission under strict Terms & Conditions. Contact china@decanter.com to learn about how to become an Official Media Partner of DecanterChina.com.