Chateau Haut-Batailley
5th Cru Classe, 1855
33250 Pauillac
+33 (0)5 56 59 09 66
www.haut-batailley.fr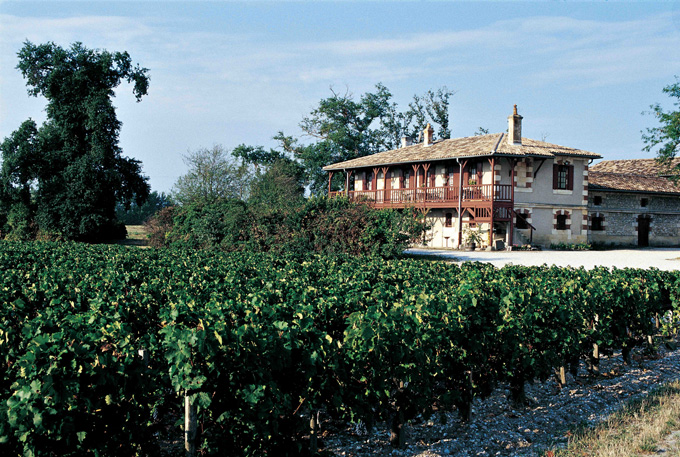 Location: AOC Pauillac, south of Pauillac on the border of Saint-Julien.Production: 22 hectares, producing 'Grand Vin' around 8,000 cases per year.
Five things you didn't know about Chateau Haut-Batailley:
- The estate was originally part of Chateau Batailley until it was split off in 1942 and turned into a separate property by brothers Francois and Marcel Borie (who had owned Batailley since the early 1930s). The estate remains in the hands of the Borie family, giving it the rare distinction of having just one careful owner since its inception!
- As both Batailley and Haut-Batailley shared the same history until 1942, they reflect the history of many other great Médoc estates that were split at various points in their lives - most notably Rauzan-Ségla and Rauzan-Gassies; and the three Léovilles of Léoville-Las Cases, Léoville Poyferré and Léoville Barton.
- The same team of harvesters (at least the next generation of the same families) has been bringing in the grapes for over 50 years – all coming from the small village of Valdepeñas de Jaén in Andalucia, southern Spain.
- The unusual name of the second wine, La Tour L'Aspic, comes from a tower that is located in the vineyard, dating from 1875. On the top of the tower is a statue of the Virgin Mary depicting her stepping on the devil, who is represented by a venomous snake (an asp, or 'un aspic' in French). Hence La Tour L'Aspic, the Tower of the Asp.
- This is a true Pauillac family. Francois-Xavier Borie grew up at family estate Ducru Beaucaillou, he went to school in Pauillac, boarding school in Bordeaux, then returned to live fulltime in Pauillac.
Current owner: Francoise des Brest-Borie, with nephew Francois-Xavier Borie as managing director since 1992.
Most notable previous owner: There has been no previous owner outside of the Borie family, so we had better plump for Francois Borie, father of Francoise des Brest-Borie.
Other chateaux owned: Director Francois-Xavier also owns Chateau Grand-Puy-Lacoste. His sister, Sabine and brother Bruno owns Chateau Ducluzeau in Listrac Medoc, and Bruno owns Ducru-Beaucaillou in Saint Julien, but shares ownership of it equally with his sister.
Commercial strategy: 100% négociants, 95% en primeur through the traditional Bordeaux market place, with Borie attesting to his belief in the system ('you have to get on a train while its passing' says Borie today). Around 70% of the wine is sold at export.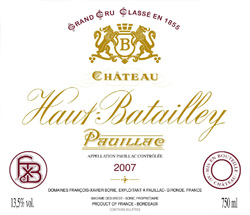 Second wine: Chateau La Tour L'Aspic.
Through the centuries:
The history of Batailley and Haut-Batailley was exactly the same until 1942, when the estate was split. So, although the history of this particular property is relatively recent, its origins date back many centuries. However, to skip to the creation of Haut-Batailley itself, let's ask Francois-Xavier Borie. He says, 'In the 1940s, my grandfather Francois wanted to have his own property and his own vines. He owned the négociant company Borie Freres with my great uncle Marcel, and sold a part of his capital to buy Ducru-Beaucaillou. At the same time, the brothers split the vineyard and buildings of Batailley, and gave the name Haut-Batailley to one section. He then enlarged some of the buildings to make cellars - the Basque-style buildings that are still used today. Here, at Haut-Batailley, the most symbolic part of the design is the white tower - La Tour L'Aspic - that the Averous sisters had built as a symbol of their piety after one of their many trips to Lourdes'.
Today Batailley is run by Philippe Castéja, the son in law of Marcel Borie, while Haut-Batailley has passed to the daughter of Francois Batailley.
Consultant: Eric Boissenot.
Plantation and vineyard work:Cabernet Sauvignon (70%), Merlot (25%), Cabernet Franc (5%), average age 40 years, planted to 10,000 vines per hectare. Pruning follows classic double guyot.
Vinification: Since 2006, Borie has been making gradual investments in a new cellar including new vats that now match the number of plots in the vineyard, and introduced new processes for sorting the grapes, and more precise temperature control during vinification. All the wines aged in oak barrels for 14 to 16 months depending on vintage. He uses each year around 55 % new oak.
Terroir: Deep gravel. The estate is located to the south of Pauillac, near the border with Saint Julien and so benefits from the homogeneity of the Saint Julien terroir, giving an elegance to the wine.
Recent improvements or changes:
Since April 2010, Borie's eldest daughter Emeline has worked alongside him, as director of marketing. She was trained in a Paris business school and she was graduated masters from the Organisation Internationale de la vigne et du vin (OIV).
Since the 2012 vintage, a research and development manager, Christelle Spinner (oenologist), has also been appointed.
Recent Decanter scores:
'Outstanding' in 2014 panel tasting of the 2010 vintage
2012 en primeur – 17 points/20
2011 en primeur – 17 points
2010 en primeur – 17 points
2009 en primeur – 17.5 points
2008 en primeur – 15.5 points
Average bottle price in UK: £25-£40, depending on vintage.
- Follow us on Weibo @Decanter醇鉴

and Facebook

for most recent news and updates -
All rights reserved by Future plc. No part of this publication may be reproduced, distributed or transmitted in any form or by any means without the prior written permission of Decanter.
Only Official Media Partners (see About us) of DecanterChina.com may republish part of the content from the site without prior permission under strict Terms & Conditions. Contact china@decanter.com to learn about how to become an Official Media Partner of DecanterChina.com.