The setting of a trade and consumer tasting invariably projects the image of the wines you're about to sample.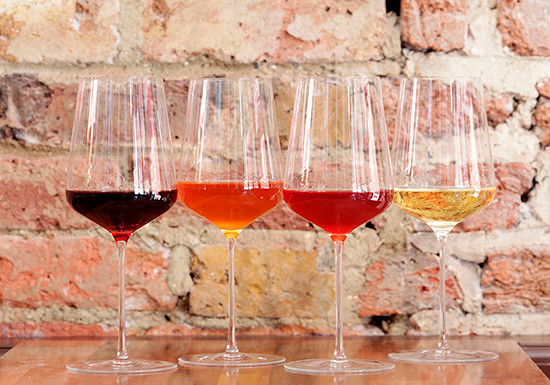 I had that thought in mind at New York's second annual Raw Wine fair [November 2017], the global exposition of natural wines founded by Master of Wine Isabelle Legeron.
First off, the NY fair was squirreled away in a warehouse district in hipster Brooklyn, rather than in glitzy Manhattan. The producers' tables were lined up in a reclaimed industrial space with a cavernous, artist's loft appeal: high ceilings, rough brick walls, giant windows, exposed beams and concrete floors.
The unmistakable vibe of 'We're all rebel artisan producers here' sent a warning and a promise: don't expect polished or, heaven forbid, luxury bottles; this is the gritty, real stuff, made by real people from real grapes grown in real vineyards.
That image extended to the attendees – young (under 35) drinkers in worn jeans, fleece vests and scuffed designer boots – and to the food: grain bowls and pizza to wolf down at picnic tables in the gravel courtyard.
There's been a lot of talk in the past year about whether natural wine (which as a category resists easy definition) has become mainstream or will be, but its casual image and 'cool' factor suggest many winemakers and aficionados may not actually want it to go there.
I get the idea some want it both ways – mainstream enough to sell but edgy enough to be, as one US food publication put it: 'a thing your parents could never understand'.
Natural wine proponents play an insider/outsider game that includes the idea of a special community, where advocacy is more important than criticism.
For some, drinking natural has become a lifestyle choice that says you're a person who values honesty, openness and emotion. ('Raw Wine celebrates wines with emotion… that have a humanlike, or living presence,' read the welcome in the tasting book.)
Noble intentions, of course, can't excuse wines that taste like cider and carry whiffs of barnyard, vinegar and mousiness. Dismissing flaws as 'a wider range of flavours' doesn't help either the wines or the winemakers.
Yet despite badly made examples, natural wine has arguably been the major movement of the 21st century wine world.
Though only accounting for a tiny amount of wine sold, the trend is growing in every country, and has had a serious impact on mainstream wines, in part by encouraging a new desire for freshness, as opposed to the once-popular heaviness of oaky, alcoholic bottles.
It's influenced both top conventional winemakers and new young ones to experiment and embrace some of the core tenets of natural wines.
At the same time, the overall quality of natural wines has rapidly improved, too. Most of the 122 producers at Raw Wine poured reds and whites that impressed me with their subtlety, energy and individuality.
Winemakers whose wines often used to be hit-or-miss, such as those from Abe Schoener's The Scholium Project, now show very assured winemaking. His skin-fermented Sauvignon Blanc, The Prince in his Caves 2015, was stunning.
The no-sulphur wines from Oregon's Swick Wines had zing and structure; the low-sulphur Methode Sauvage Cabernet Franc from the Santa Cruz Mountains had the savour of a delicious Loire red.
I'm personally convinced that the route of organic and biodynamic viticulture – perhaps the first step towards natural wine – is essential in a world where herbicides and pesticides are adversely affecting the environment and human health.
If natural wine makes people think harder about how the wines they drink are produced, that's a good thing. Having what natural wine stands for – the real deal – become what's expected in wine would be, too.
But the movement's ever-growing footprint in wine consciousness raises the possibility that future mainstream acceptance will eventually come at the price of losing the hipster street cred it now enjoys.
Will the wines still be considered 'cool' if they're no longer part of a tribal culture?
Raw Wine takes place in London on 11 & 12 March.
This column first appeared in Decanter magazine's April 2018 issue.
Translated by Sylvia Wu / 吴嘉溦
All rights reserved by Future plc. No part of this publication may be reproduced, distributed or transmitted in any form or by any means without the prior written permission of Decanter.
Only Official Media Partners (see About us) of DecanterChina.com may republish part of the content from the site without prior permission under strict Terms & Conditions. Contact china@decanter.com to learn about how to become an Official Media Partner of DecanterChina.com.