Almost two years in to heading up Francis Ford Coppola's Inglenook winery, Philippe Bascaules – who moved to Napa for harvest 2011 after 20 years at Chateau Margaux in Bordeaux – tells me that he has very little time to make friends locally, as he is so focused on the job in hand.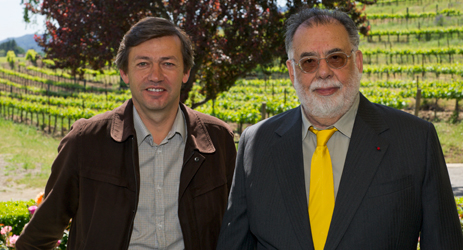 I hope he doesn't think I'm meddling, but I can't resist giving him a little nudge. There are at least 20 French winemakers in Napa, making up a small but select group. A surprisingly high proportion of them come from Bordeaux, including Philippe Melka at Melka Wines, and Benoit Touquette at Hartwell Vineyards. Even more surprising is that there are at least two who have spent significant parts of their career, just as Bascaules has, at the 1855 First Growths. Christophe Paubert at Stags' Leap grew up just outside Sauternes, and worked as cellar master at Yquem for a while, while Denis Malbec at Blankiet Estate was not only the former cellar master at Chateau Latour, but was born at the chateau and was the third generation of his family to work there. A little more tangentially, over at Heritance, Bernard Portet (co-founder of Clos du Val) was born in Cognac but learnt about wine from his father who was manager of Chateau Lafite Rothschild.
I suspect, however, that Bascaules will resist my suggestions for a while longer. Not just for the practical reasons of running a large estate with over 100 staff but because, as he said when I met up with him last week for a vertical of the past three vintages at Inglenook, 'I don't want to be influenced by my neighbouring winemakers just yet. Since arriving, I have wanted to make up my own mind on what needs to be done at Inglenook. One of the striking things about Napa is that you can find everything in the vineyards, from choice of grape variety to choice of trellising system and irrigation methods. Everyone is convinced that they are right, but nobody knows for sure, so I want to experiment and choose what works for these particular vines that I am getting to know. It's liberating to have all these options, but it's tough.'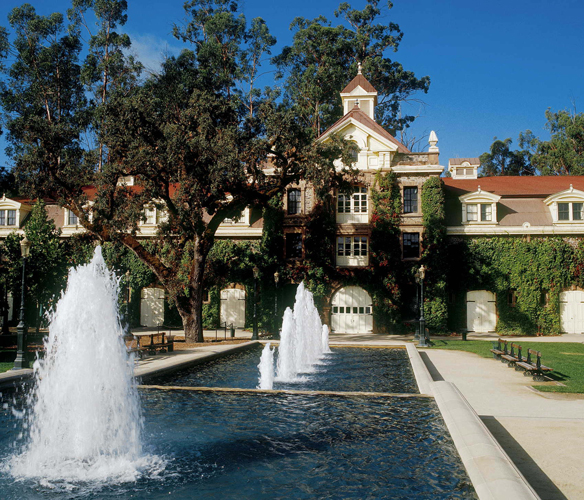 Liberating must be one word that sums up a move from the confines of the appellation controlée system in Bordeaux to the relative freedom of Californian winemaking. Bascaules is part of the rebirth project of Inglenook being undertaken by Coppola, who has owned the estate since 1975, when he named it Neibaum-Coppola. In 2008 he hired French oenologist Stéphane Derenoncourt as consultant winemaker, and in April 2011, acquired the rights to the original name, as it was when Gustave Niebaum first bought the property in 1880. Coppola has now also reassembled the original vines, and reintroduced the labels from the 1930s post-Prohibition era, with Inglenook Rubicon for the first wine, and Inglenook Cabernet Sauvignon for the second wine. He came to Bascaules for help in restoring another traditional aspect of the property; its elegant wine style.
'That is the goal we are working towards. In the 1940s and 50s,' says Bascaules, 'alcohol levels here were regularly 12.5%-13%. I have tasted some wonderful older vintages, and this is the profile that we are looking to recreate. The vineyard needs very different things in Napa than in Bordeaux of course. Vine density, for example, needs to be high in the Médoc because there is underground water in the soils, but in Napa there is very little groundwater, so overly-high density can lead to vine growth blockages. But what I can do in Napa that I couldn't in Bordeaux is make more use of tools such as irrigation. In some conditions, the tight rules of France are tough. Even in Chateau Margaux, there were years such as 2003, even 2005, when the young vines would have benefitted from irrigation, but we were unable to. Now I am happy to be able to experiment.'
Inevitably, the experience at a First Growth has informed his choices. 'The wines of Margaux teach what are the qualities needed to make a great wine:complexity, intensity, persistence, and a texture that is both dense and soft. In Inglenook, I have only introduced changes slowly, after being convinced that they would improve things. This is certainly something I learnt at Margaux. But Inglenook has over a century of history of its own, and 30 years with the Coppola family. It has its own personality and specificities; we are simply working to finesse them.'
In many ways, Bascaules had an easy start. 2011 was a miserable one for many Napa winemakers, with rain and rot risk through the growing season. For the newly-arrived Frenchman, it was a home from home, as steering top-quality grapes through challenging weather was a skill he had naturally honed in Bordeaux's maritime climate. 2012 was more difficult – even as his neighbours may have been smiling – because there was little rain and it was more classically 'Californian'.
'Overall 2012 was more concentrated,' Bascaules agrees. 'We tried small amounts of irrigation during September, instead of the more traditional period in July and August. This helped avoid over-concentration of berries, and the resulting high alcohol levels. We practise no de-leafing at all, because protection against the sun is all-important. The grapes can get sunburn even early in the season sometimes, so in 2012 we harvested the two sides of the bunches entirely separately and vinified them in separate tanks, picking the western (sunny) side a little earlier to maintain freshness.' All of these choices meant that 2012 ended up being the earliest harvest in 10 years – with the results clear in the glass.
'Coppola would prefer no irrigation at all (as is practised at Dominus), and l believe he is right, but it can be an effective short term way to bring down alcohol levels. Over the long term, we are looking at canopy management and other practises. We'll work out the best system'.
There are moments, happily, when Bascaules does get to enjoy the Californian lifestyle, travelling to Yosemite National Park, or to Tahoe for skiing. And he's slowly getting used to the different approach to people management in the US culture. 'One of the biggest problems I have with the winery staff in Napa is not getting them to do what I suggest, but stopping them from rushing in too quickly. I have learnt not to think out loud, because people tend to react immediately, and get on with it, sometimes before I have made a decision. That is very different from my experience in France…'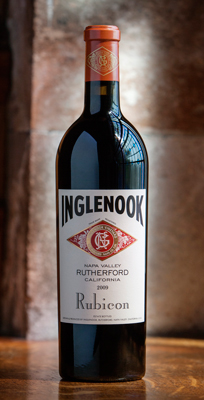 In the glass…
Inglenook Rubicon 2011
This will be bottled in June 2013, and is a great example of the style of Inglenook that Bascaules would like to be making. The tannins are rich and smooth, with the nutty, almond flavours that suggest they were fully ripe, but there is a precision to them, and a general sense of freshness that suggests nothing got over-ripe. On the palate, the fruit is fleshy through the mid-palate, with blackcurrant and liquorice, without the prunes and figs that you can taste in hottest years. Only French oak is used, and the quantity of new oak has been brought down to 70% from 85%. The second wine, Inglenook Cabernet Sauvignon, has a few telltale green tastes of a cooler year, but there are none in Rubicon. 'I want to make Californian wine,' Bascaules says, 'but moving away from the over-ripe style of the past decade. The challenge is not to lose the qualities of this 2011 in the hot years.'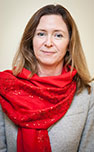 Columnist Introduction
Jane Anson is Bordeaux correspondent for Decanter, and has lived in the region since 2003. She is author of Bordeaux Legends, a history of the First Growth wines (October 2012 Editions de la Martiniere), the Bordeaux and Southwest France author of The Wine Opus and 1000 Great Wines That Won't Cost A Fortune (both Dorling Kindersley, 2010 and 2011). Anson is contributing writer of the Michelin Green Guide to the Wine Regions of France (March 2010, Michelin Publications), and writes a monthly wine column for the South China Morning Post in Hong Kong, where she lived from 1994 to 1997. Accredited wine teacher at the Bordeaux Ecole du Vin, with a Masters in publishing from University College London.
Click here to read all articles by Jane Anson>>
All rights reserved by Future plc. No part of this publication may be reproduced, distributed or transmitted in any form or by any means without the prior written permission of Decanter.
Only Official Media Partners (see About us) of DecanterChina.com may republish part of the content from the site without prior permission under strict Terms & Conditions. Contact china@decanter.com to learn about how to become an Official Media Partner of DecanterChina.com.