Basic profile
Name: Lu Yang
Current Position: Corporate/Group Wine Director of Shangri-La International Hotel Management Ltd.
Based in: Hong Kong
How long have you been working as a sommelier: 7 years
Also worked for: The Peninsula Shanghai
Qualifications & Awards:
Qualifications
- Court of Master Sommelier, Level 3 Advanced Sommelier
- WSET, Level 4 Diploma (Merit)
- Niagara College, Viticulture and Winemaking Degree
- International Sommelier Guild, Sommelier Diploma Program
- WSET, Certified Educator Program
- Bureau Interprofessionnel des Vins de Bourgogne (BIVB), Certified Bourgogne Wine Educator
- Le Conseil Interprofessionnel du Vin de Bordeaux (CIVB), Certified Bordeaux Wine Educator
- The Vintage Port Academy, The Essential Knowledge of Port
Awards
- Jack Acykroyd Memorial Scholarship Award, WSET & IWEG, 2008
- 'Power List', Wine Magazine, 2011
- Madame Bollinger Award and Scholarship, Institute of Master of Wines & Champagne Bollinger, 2011
- Wines of Germany Scholarship, WSET & German Wine Institute, 2012
- 'China Wine Ambassador', Hurun Report, 2012
- 'Young Hope' Trophees de l'Esprit Alimentaire, French Government & Sopexa, 2014
Competition
- Champion, Penfolds China Sommelier Competition, 2008
- Champion, China's Best Sommelier of French Wines, 2010
- Champion, China National Sommelier Competition, 2010
- 4th Place, World Best Young Sommelier of the Year, Chaine des Rotisseurs, 2010
- 2nd Place, Best Sommelier Greater China Competition, 2010
- TOP 5, Hong Kong Best Sommelier Competition, 2014
- Champion, Best Sommelier Greater China Competition, 2014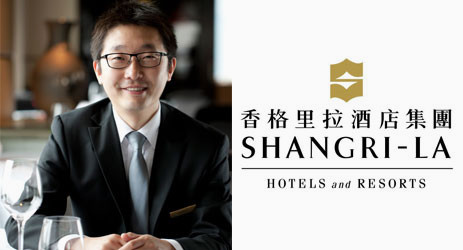 What is it like to be a sommelier?
How did you get into the business?
My aspiration was to be a scientist when I was a child, hence I did Astrophysics when I was studying at the University of Toronto. My grades were quite good at the beginning, but started to slip afterwards. Perhaps it's because I was young, I was feeling quite lost about my future, and started to drink everyday – any kind of alcoholic drinks. I did not focus on my studies at all, hence the poor performance at university. In 2005, I realised I have to make some changes to my life, and considering I have no interest in science anymore, I decided to study wine. As to why I chose to focus on wine, it's mainly because I love drinking wine. Secondly, as I was born and raised in Xinjiang, I love the nature, including vineyards and fresh air. Lastly, because of my correct presumption that wine culture will become more and more popular in China. That's when I started studies on planting and brewing at Niagara College. I knew nothing at the very beginning, not even what Chardonnay was. But somehow, by and by, I became addicted to learning more about wine and everything about wine once I started. At that time, some of my classmates were sommeliers, and introduced me to the industry. I felt that as I also love food, it would suit me very well to be a sommelier. After obtaining the qualification as a sommelier, I started to work at restaurants, and started from the bottom. After working in Toronto for almost two years, I found out the Peninsula Hotel was launching in Shanghai. As I love their brand, I sent my resume to the General Manager of the Hotel, and luckily, I was accepted. Therefore, I returned to China in July 2009, and worked at The Peninsula Hotel for a total of three years until July 2012. I gained a tremendous amount of wine knowledge during my time there, including winning a few championships in some tasting/sommelier competitions. In August 2012, I joined the Shangri-la Hotel, shifting my responsibilities towards the management side of the business. I hope that along with the team of sommeliers, we are able to be part of the driving force behind the wine industry.
Who was the most interesting customer you've ever met?
Aubert de Villaine
Please describe your typical day
My current position is Corporate/Group Wine Director of Shangri-La International Hotel Management Ltd. My responsibilities have now shifted to more on the planning process and management, which is quite different to what I did when I was a sommelier. I have three main responsibilities at the headquarters; the first one is to write the manual for wines and for sommeliers, including the basic profiles of the wines we serve in all hotels in our group. The manual also includes all aspects of operations, duties of sommelier, management of the wine cellar, service protocols and standards, and more. The manual is over two hundred pages, acting as the guidelines for all wine services at the hotel. My second main task is launching and running wine campaigns at the hotel, including all domestic hotels' cup liquor and core wine lists, and other than the former group's project, this time I divide all hotels into three different catagories according to the sales capabilities, the situation and the potential of the market. Each level or category has different quantity of wine lists, different selection of wined and different prices, which is according to the local market situation. For me, the ideal situation is not having the best wine list, but creating one that will do well in the local market. It is obviously inappropriate to sell the wine list of Shanghai Jing An Shangri-La to Suzhou Shangri-La because the wine list is way ahead of the capabilities of the local market, and won't be suitable for Suzhou. What I can guarantee is that the wine lists for both hotels are absolutely the best among all local hotels. The third major task is training sommeliers, which is also one of the main reason why I accept the job at Shangri-La, because I hope to bring about more excellent sommelier in China. In the aspect of the training, since last year, we have our Shangri-La own wine summit and our own internal global annual Sommelier Competition; Gerard Basset acted as a model and an example for our sommelier as the Shangri-La Wine Ambassador. I teach WSET Level 2 and Level 3 for our hotel sommeliers, and we also have an internal Court of Master Sommelier training. Brian Julyann also help train and test the level 1 and level 2 of CMS for our sommeliers; every year we will send some sommeliers to study abroad, such as at tasting primers in Bordeaux,going to Burgundy to attend Grand Jour de Bourgogne wine tasting, etc.; This year I also took a dozen of sommeliers to Xinjiang Cypriot winery for a harvest study tour, enabling to learn about planting and brewing from German-American, for a deeper understanding on wine. I hope that through the support of the Shangri-La to sommeliers, we can train a number of excellent local sommeliers for the group, plus contributing to the industry.
When I was at The Peninsula Shanghai as a sommelier, I started my work at 10:00 a.m. or 11:00 a.m. I took a look at the sales status of the day before or after morning briefings, and made orders accordingly. For lunch time, if the restaurant was busy or had special events, I went for to help the service. In the afternoon, what I did was attend meetings with suppliers etc. And in the evening between 6 p.m. to 10 p.m., I served in the restaurant. After 10:00p.m., I continue to do more paperwork and check emails to prepare for the next day. Sometimes, work will only finish after mid-night if there was any special occasions.
How does a wine end up on your wine list?
I consider its quality, price, and it must also match our restaurant style.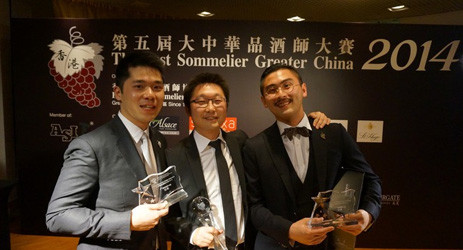 Image: The Best Sommelier Greater China 2014 competition
Champion Lu Yang (centre), 1st Runner-up Leo Au (left) and 2nd Runner-up Wallace Lo
© Hong Kong Sommelier Association (HKSA)
Tips for consumers
Apart from your own hotel/restaurant, where do you go to find good wines in your city or elsewhere in China?
I visit Le Cabane and 121 BC in Hong Kong quite often. In Mainland China…perhaps it would be my own wine bar in the future!
What is popular right now (region, producer, ect.)?
During the past two years, Burgundy has become very popular. But to me, there is always a market trend. And as an excellent sommelier, one must lead the market instead of following it. For example, when I first started to look at the wine list at the Peninsula Hotel Shanghai, I focused immensely on Burgundy, even when everyone was concerned we won't be able to sell out the wines. Before I left the Peninsula, the number of wines we have from Burgundy has already passed the ones we have from Bordeaux. I think the next big thing would be wines from Rhone, Champagne and Riesling from Germany.
What has changed in the last year (consumer profiles, consumption habits, price, region, etc)?
The market competition has intensified. Consumers are looking at quality over prices. These are all good signs.
What is the role of a sommelier in modern day China?
Sommelier is still a very new industry; therefore the overall strength and average level of experience, and knowledge are still far from the standards in European countries, especially when wine is not part of Chinese culture and history. But I'm sure China will be able to have world-class sommeliers in the future, and will be in the near future. The industry has only been developing for about four to five years, and we already have excellent sommeliers such as Li Meiyu and Guo Ying, and more. They are already the top sommeliers in Chinese speaking areas, including Hong Kong, Taiwan, and Macau. I am certain the next and future generation will perform even better than us, China will for sure has a team of Master of Wines. Furthermore, I think that sommeliers has an advantage over any other profession in the industry, and that is we are able to meet and know people from all walks of life, from winemakers, wine merchants, media, critics, to consumers. Sommeliers should try to learn as much as they can through interacting with all these people.
Finally, how would you suggest people to approach food and wine pairing?
Have the courage to try new things, and don't be influenced by all sorts of theories by so called experts. The only way to figure out what food pairs well with what wine is by trying. Of course, at times you should still take in some of our suggestions!
All rights reserved by Future plc. No part of this publication may be reproduced, distributed or transmitted in any form or by any means without the prior written permission of Decanter.
Only Official Media Partners (see About us) of DecanterChina.com may republish part of the content from the site without prior permission under strict Terms & Conditions. Contact china@decanter.com to learn about how to become an Official Media Partner of DecanterChina.com.