Chateau Batailley
5th Cru Classe, 1855
33250 Pauillac
www.batailley.com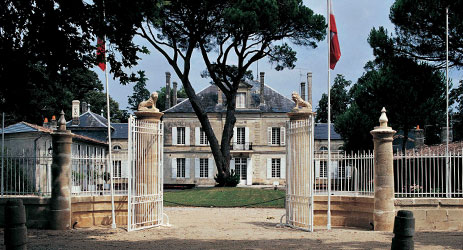 Location: AOC Pauillac, near Chateau Lynch-Moussas.Production: 57 hectares, making between 250,000-300,000 bottles.
Five things you didn't know about Chateau Batailley:
- Batailley is one of the oldest (and once largest) estates in Pauillac, dating back to the 15th century.
- Director Philippe Castéja is also president the Conseil des Grands Crus Classés 1855. He also managed to squeeze in a stint as president of the Bordeaux Wine Bureau (CIVB) at an earlier point in his career. In his role of president for the French association of wine and spirit exporters (FEVS), he was instrumental in the accord between Europe and the US over protecting the use of terms such as port, sherry and champagne that had been used as generic wine terms.
- In 1850, the chateau's six hectare park was designed by Jean-Pierre Barillet-Deschamps, Napoleon III's favoured garden architect, known as the chief gardener of Paris (who planted over 100,000 trees along boulevards in the capital). Some of the trees in Batailley's park come from America, India, China and Mexico. Five years later, Napoleon III rubber-stamped the 1855 classification.
- One of the very few classified properties to have no second wine (it is joined in this by Chateau Saint-Pierre in Saint Julien).
- Pierre-Francois Guestier, owner at the time of the 1855 classification, sent up four six-bottle cases to the Paris exhibition of wines from Léoville, Langoa, Beychevelle and Batailley. The first two were estates owned by his business partners the Bartons, while both Beychevelle and Batailley were owned by the Guestier's at the time.
Current owner: Héritiers Castéja, with Philippe Castéja as the administrator and director.
Most notable previous owner: Daniel Guestier, one of the most significant 19th century négociant families of Bordeaux (as, in a nice bit of symmetry, the Castéja family are today), who had arrived in Bordeaux in the 1770s. He owned Batailley in the 1800s, eventually dying there in 1847. His son Pierre-Francois Guestier was in charge during 1855.
Other chateaux owned: Chateau Trotte Vielle in Saint Emilion, Chateau Lynch-Moussas in Pauillac, Chateau Haut-Bages Monpelou in Pauillac, Chateau Bergat in Saint Emilion, Chateau Beau Site (Pauillac), Chateau du Domaine de l'Eglise in Pomerol, Borie Manoux négociant house (in the family since 1881). Another branch of the Castéja family owns wine merchant Joanne and Chateau Doisy-Vedrines in Sauternes.
Commercial strategy: 100% négociants, sold 90% en primeur through the Place de Bordeaux exclusively with Borie Manoux.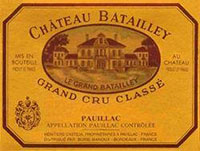 Second wine: There is no second wine.
Through the centuries:
The name Batailley comes from a battle that took place where the chateaux and vineyard stand today during the Hundred Years War between the French and Englsh. In this battle, in the 1400s, the French reconquered nearby Chateau Latour from the English (for a while at least, as it changed hands several times during the conflict). This was one of the first key French victories however, setting the area on course to return to French rule. A few years later, vines were planted here, and by the 1700s, it was a full winemaking estate owned by the Saint-Martin family. In 1791, as the French Revolution was raging in France, Marianne and Mart Saint-Martin sold their part of the estate to Jean-Guillacume Pecholier, who then sold on to Daniel Guestier of Barton & Guestier négociant house in the early 1800s. He began buying up neighbouring plots to build up the size of the property, and eventually die there in 1847, just a few years before it was crowned a Fifth Growth in the 1855 classification, under Napoleon III. By coincidence, Napoleon's favourite garden-architect, Barillet -Deschamps, also designed Batailley's six hectares of gardens. The estate was run by Guestier's three children until 1866, when it was bought by Parisian banker Constant Halphen. He kept the property all the way through til 1932, when the Borie brothers bought the chateau. Ten years later, in 1942, the brothers divided up the vineyard. The largest part, including the chateau, was kept by Marcel Borie, and retained the name Batailley, while the smaller part became Haut-Batailley. After Marcel, Batailley passed to Denise and Emile Castéja, and now their son Philippe Castéja and daughter Chantal Preben Hansen.
Consultant: Denis Dubourdieu.
Plantation and vineyard work:Cabernet Sauvignon (70%), Merlot (25%), Cabernet Franc (3%), Petit Verdot (2%), average age 40 years, planted to 8,000-10,000 vines per hectare.
Vinification: Vinified in stainless steel tanks. 16-18 months in oak barrels, 55% new oak, 45% one year old.
Terroir: Silica, gravel
Recent improvements or changes:
This is seen as one of the best value classified Pauillacs.
Recent Decanter scores:
2012 en primeur – 16.5 points/20
2011 en primeur – 16.5 points
2010 en primeur – 17 points
2009 en primeur – 16.5 points
2008 en primeur – 16.5 points
Average bottle price in UK: £25-£50, depending on vintage.
- Follow us on Weibo @Decanter醇鉴

and Facebook

for most recent news and updates -
All rights reserved by Future plc. No part of this publication may be reproduced, distributed or transmitted in any form or by any means without the prior written permission of Decanter.
Only Official Media Partners (see About us) of DecanterChina.com may republish part of the content from the site without prior permission under strict Terms & Conditions. Contact china@decanter.com to learn about how to become an Official Media Partner of DecanterChina.com.