Chateau Marquis de Terme
4th Cru Classe, 1855
33460 Margaux
+33 (0)557 88 30 01
www.chateau-marquis-de-terme.com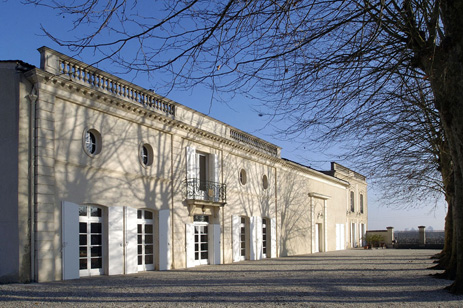 Location: AOC Margaux, located near to Rauzan-Segla, Palmer, Lascombes and Chateau Margaux.Production: 40 hectares, producing 150,000 bottles per year.
Five things you didn't know about Chateau Marquis de Terme:
- Director Ludovic David (who came from working with Bernard Magrez at Chateau Fondaudege) has been making wine for over 25 years, and has carried out vintages in Bordeaux, Pomerol, Saint Emilion, Margaux, South Africa and California. David took over in 2009 following the retirement of Jean-Pierre Hugon after 35 years in the position. This seems to be a job that people choose to stay with – he is only the third director in 80 years.
- In the cellars, 10% of the wine is now aged in egg-shaped cement vats, made by French group Nomblot and costing €3,000 a piece. The resulting wine is blending in with wine aged traditionally in oak barrels. 'They are Blue-Ray compared to DVD,' said director Ludovic David. 'They give high definition to the fruit – brilliant, vibrant and mineral with a purity of fruit which could be too much alone, but is softened and balanced by the oak-aged wine'.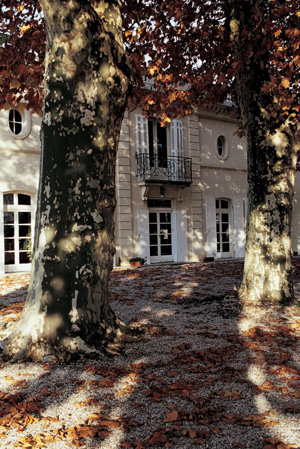 - Thomas Jefferson placed Marquis de Terme among the Third Growths in his 1780s classification. It was bumped down just one spot in 1855.
- Just two families have run Marquis de Terme for the past 200 years. The Sénéclauze family arrived in the 1930s, taking over from the Feuillerat family, who had first arrived as managers in 1817.
- The estate covers the same land as it did in 1855, when it was 38.5 hectares in size.
Current owner: Sénéclauze family since 1936, with Ludovic David as managing director. Today brothers Pierre-Louis and Philippe Sénéclauze are active in the estate.
Most notable previous owner: I think I might choose not an owner but a manager, Thomas Feuillerat. He was just 20 when he began working at the chateau in 1817 – as a vineyard worker and then later manager and right-hand man of the owner. He stayed with Chateau Marquis de Terme until his death in 1870. It was under Feuillerat's steady hand that the vineyard increased in size and renown, even while it was being bounced between first Hallvorus Sollberg, then Mac Daniel, then back to Oscar Sollberg (all of whom seemed to go bankrupt at various points, making Feuillerat's job even tougher). In fact, this then becomes the story of an owner, as his son Jean took over as manager in 1870, then finally became owner himself in 1898, until his death a few years later in 1904.
Other chateaux owned: Two estates in Provence, one in Bandol and one in Cotes de Provence.
Commercial strategy: 100% négociants, sold en primeur through the Place de Bordeaux.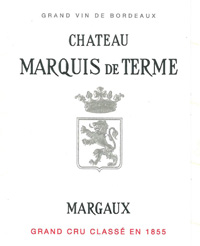 Second wine: La Couronne de Marquis de Terme (called this from 2008 vintage, replacing the rather clunky Les Gondats de Marquis de Terme). The volumes of second wine have risen in recent years, now at around 30% of overall production, compared to 15% a few years ago.
Through the centuries:
Marquis de Terme was once part of the same estate, owned by Pierre de Mesures de Razuan, as Rauzan-Segla, Rauzan-Gassies and Desmirail, until the various parts were separated in the 17th century. Heading back further, the first family connected to this plot of land was the Péguilhan-La Barthe family, who pretty much owned half of the region back in the 8th and 9th centuries. Much later, the first Marquis de Thermes was Paul de la Barthe, who had an illustrious military career under Francois I and then Henri II, until his death in 1562. The term Marquis de Therme was handed down through his family, indirectly usually as they seem to have shied away from having children. Eventually it came to the Pardaillans and Péguilhan families in the 17th century – and lost its 'h' along the way, become Marquis de Termes and its title holder eventually worked directly for Louis XIV as his personal valet. By the early 18th century, Francois III had inherited the Seigneurie de Termes, and in the 1750s got married and settled in Bordeaux. Reportedly the family was so wealthy and flamboyant, that a crowd of onlookers gathered to watch their arrival into Chartrons. Francois' wife, Elizabeth de Ledoulx d'Emplet, brought land in Cantenac as part of her dowry, and from this time the wine made here was known as the Marquis de Terme. The wine is listed under this name in tax records in 1774.
During the French Revolution, the Marquis was forced to sell up, but the new owner Sieur Jean-Joseph Guyonnet had clearly not read the mood of the nation correctly, as the chateau was confiscated from him as events gathered pace during the Revolution. In 1796, the estate was sold to Citizen Duprada, who enlarged the winegrowing land, but was forced to sell up in early 19th century when his debts became too heavy. It bounced around between a few owners until 1809, when Swedish wine merchant Halvorus Sollberg took over.
Sollberg held on to the property until 1817, when he fled the country, leaving his vineyards (and debts) to his ex-wife, who had to sell up by 1834 to Scottish merchant Mac Daniel. However, long-term worker and later manager Thomas Feuillerat was kept on to run the estate, and it was Feuillerat who expanded the property significantly between 1834 and 1870, notably with the purchase of a property called Les Gondats (the name of the second wine for many years). He provided the steady hand as ownership changed once again in 1845 – back to the Sollberg family, when Oscar Sollberg, Halvorus' son, took back control. It was Oscar Sollberg's name on the 1855 classification, when the property was named as 4th Growth.
Phylloxera hit Chateau Marquis de Terme hard though, and the poor old Sollberg's were ruined once again, having their property seized by the courts in Bordeaux for not paying their debts. The loyal Feuillerat (by now son Jean Feuillerat) managed to convince wine merchant Frédéric Eschenauer to buy the property, with the agreement that Jean would buy it back within ten years. This pact was honoured, and on May 4, 1898, Jean Feuillerat finally became owner of the estate that his own father had loved so much.
When Jean died, the estate passed to one of his sons, Armand Feuillerat, who in 1914 also bought Chateau Ferriere, a Margaux 3rd Growth. Just after World War One, he introduced a second wine, one of the first properties to do so (first called La Mariotte Margaux, then Terme des Gondats), and the property became well known in overseas markets. It also turned into something of a meeting point in Margaux for high society, attracting politicians, artists and business figures to various social gatherings. But bankruptcy hit again after the 1929 crash, and by 1934 and Armand's death, the whole thing was heavily mortgaged, and was finally sold to Pierre Sénéclauze, a wine merchant from Marseilles.
Today Marquis de Terme is owned by Pierre's sons, Pierre-Louis, Jean and Philippe.
Consultant: Julien Viaud (internal oenologist)
Plantation and vineyard work:Cabernet Sauvignon (55%), Merlot (35%), Petit Verdot (7%), Cabernet Franc (3%), average age 35 years, planted to 10,000 vines per hectare. Hand-harvesting. The work in the vineyard has been tightened and made infinitely more precise over the past few years – cutting down on any use of chemicals and vineyard treatments, encouraging biodiversity, working at far more precise selection in the plots during the year from leaf thinning to green harvest, and during the sorting of the grapes before and after harvest. This has been taking place slowly over the past 20 years, but speeded up pretty drastically since the arrival of David – most particularly with delaying picking dates to ensure fully ripe grapes.
Vinification: Main changes recently have been better grape reception and sorting processes during harvest, and longer, gentler maceration of the skins and juice during the winemaking. The vats that range from 80 to 220 hectolitres (equivalent to plots of 2 hectares up to 5 hectares) and 50% of new oak every year – just fine-tuning, because the quality of the wine is the sum of tiny details. Prefers a late rather than early blending.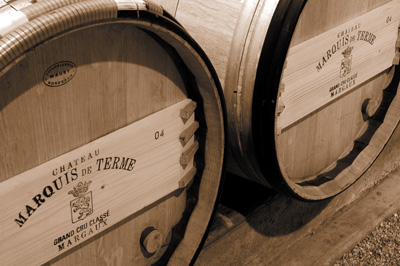 Terroir: Deep gravel in the heart of Margaux on the Plateau de Margaux and the Plateau d'Issan, both gravelly outcrops with a complex mix of black sand, quartz, clay and limestone, over a base of deep gravel.
Recent improvements or changes:
After various renovation and restoration works over recent years (the technical buildings were fully renovated in 2009), Marquis de Terme has just launched a serious wine tourism push, with a new tasting and reception room, and a new wine boutique. One of the most interesting things it offers is an introduction to the 1855 Classification (why don't more chateaux do this?).
The estate is currently in conversion to organic winemaking, expected to be completed by 2017.
Recent Decanter scores:
2012 en primeur – 16.75 points/20
2011 en primeur – 16 points
2010 en primeur – 17 points
2009 en primeur – 16.5 points
2008 en primeur – 16 points
Average bottle price in UK: £30-£40, depending on vintage.
- Follow us on Weibo @Decanter醇鉴

and Facebook

for most recent news and updates -
All rights reserved by Future plc. No part of this publication may be reproduced, distributed or transmitted in any form or by any means without the prior written permission of Decanter.
Only Official Media Partners (see About us) of DecanterChina.com may republish part of the content from the site without prior permission under strict Terms & Conditions. Contact china@decanter.com to learn about how to become an Official Media Partner of DecanterChina.com.