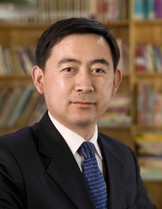 Demei LI, associate professor of Wine Tasting and Enology in Beijing Agriculture College and invited lecturer at ESA Angers, France. He obtained master's degree in Fruit Tree Science, and Engineer status for Viti-Oeno-Economie in ENITA de Bordeaux. As a winemaker, Demei was trained in Chateaux Palmer and have travelled to almost all the major wine regions in the world. He aims to establish a dialogue between the consumer and the wine trade.
Demei is currently the vice-director of the Chinese Wine Technique Committee, a member of the National Wine Judge Board and the vice-president of the Chinese viticulture Society. Consulting for several vineyards in China, including Helan Qingxue in Ningxia, and Tiansai, Silk Road vineyard in Xinjiang. Under his supervision, Jia Bei Lan of Helan Qingxue won the International Trophy (now 'Best in Show') in Decanter World Wine Awards in 2011.
As one of the key trade opinion leaders and wine advocates in China, Li Demei won the 2012 Wine Intelligence 10-for-10 Business Award and RVF's Man of the year in the Chinese wine industry. He was included in the Decanter Power List(the 50 most influential people in the wine industry)in 2013. He was also awarded the French Ordre du Mérite Agricole (Order of Agricultural Merit).
While working as a judge for several wine competitions in Singapore, Hong Kong and Europe, Demei was also invited by the organizer from Wine for Future, wine business international among other wine organisations in French, Italian, Portuguese and New Zealand to present his research on Chinese consumers' preferences in wine. He is the lead speaker of the wine Industry Forum at ProWine Shanghai since 2014.
Demei is now one of the most widely known wine authors in China, contributing to several wine magazines and news channels, including the Wine Review of Singapore since 10 years ago. He is the author of the online wine column 'wine-communication from a Chinese winemaker'.
He published multiple books in China including Wine Grape Varieties. He also contributed to The Oxford Companion to Wine (4th edition) and the World Atlas of Wine (8th edition).