It's been a Latour week for me. It started when I got a phonecall from John Kolasa, director of Chateau Rauzan-Ségla and formerly of Latour, to tell me that Jean-Paul Gardère had died.
Gardère was director of Chateau Latour for 25 years from 1964 to 1989, and the man who first hired Kolasa over to the Médoc from his previous position heading up the Janoueix properties and then the Union de Producteurs in Saint Emilion. There are plenty of people in Bordeaux who would never have considered hiring a Scot who had run a (albeit large, hugely successful) cooperative cellar to take over as commercial director of a First Growth, but Gardère was not one of them. He himself had worked his way up from 'outside' the system to become first a wine broker, and then a chateau director.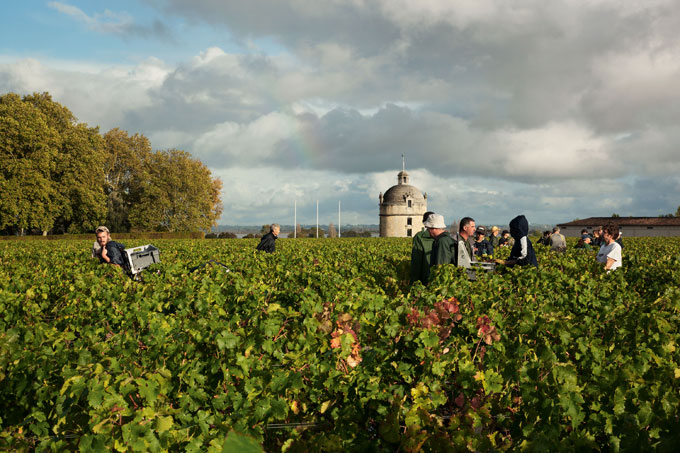 His father had made his living as a resin-tapper in the pine forests of the Landes region of southwest France, and Gardère would accompany him into the forests when he was young, before progressing to manual work in vineyards as a teenager, supplementing the family income from the age of 11.
It was Kolasa who put me in touch with Gardère when I was researching for my book on the First Growths, telling me quite rightly that 'he loves to talk about Latour, and there is no one that you can find with a better memory of how the chateau was restored to greatness in the mid 20th century.' When I met Gardère, in his small retirement flat in the smart Bordeaux suburb of Le Bouscat, he was only too happy to help me get a picture of how Latour fitted in to the overall puzzle of the First Growths. He gave me copies of his files around the chateau's pricing, replanting programmes and behind-the-scenes negotiations over the 1973 promotion of Mouton-Rothschild (Mouton, as I'm sure they know, had a firm ally in then-owner of Latour, Lord Cowdray and the Pearson Group). And on a more personal level, he also gave me a copy of his wartime diary (he had an eventful war; losing a kidney and spending two years in German prisons, as well as faithfully recording the large and small changes to daily life under German Occupation in the Médoc), and several issues of the quarterly newsletter that he wrote about the trade prospects of Médoc wines from May 1946 – the innovation that would finally gain him entrance into the upper echelons of Bordeaux wine, after another decade spent cycling through the Left and Right Banks, searching out small wine properties who needed representation.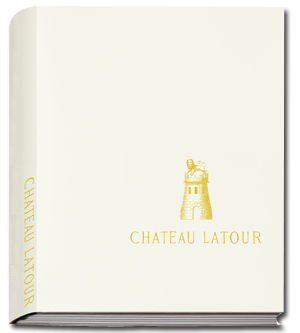 Gardère was the man responsible for much of the replanting programme in the vineyards during the 1960s, as well as introducing second wine Les Forts de Latour in 1966 and third wine Pauillac in 1973. He finally retired in 1989 (although his good friend Jean-Michel Cazes of Lynch Bages tells me that he had two false starts with his retirement, and kept coming back, so much did his miss the job), and at his death last week was aged 93. He had, by any standards, a life well lived, and I will always be grateful to have not only spent time with him, but to have had the chance to record his memories while he was still able to share them.
So it seems somehow a fitting tribute to him that I also received this week a copy of the new Chateau Latour book, instigated by the estate and realised by art-house publisher Editions Xavier Barral. If any of you have seen books from this upscale Parisian outfit before, you will know that they are specialists in (these are their words, not mine) 'book-objects' – so books that are a reflection of the artists who produce them, as befits Latour owner François Pinault's well-document interested in art (he is not only one of the biggest contemporary art collectors in the world, but owner of Palazzo Grassi and guardian of Punta della Dogana in Venice).
There's little doubt that they have achieved the 'book-object' aim with 'Chateau Latour' (that's the name of the book; the simplest thing about it by a long chalk). It's a collaborative work from photographers and conceptual artists Lothar Baumgarten and Patrick Faigenbaum, with a series of texts written by wine expert Michel Bettane, Arpège chef Alain Passard, literature professor and former film director Roland Pilloni, professor of geography and terroir expert Jean-Robert Pitte and contemporary philosopher Michel Serres. Throughout the book, depending on the voice or subject matter, there are different fonts, different papers, different textures, different moods.
If that list isn't enough to underline the fact that this is a Not Another Wine Book, the visual impact makes it clear – beautifully-bound hardback, seriously heavyweight, a good couple of hundred pages (I can't tell you how long it is exactly, as there is nothing so prosaic as page numbers), easily more images than text, pristine white cover, with the words 'Chateau Latour' printed simply at the bottom right-hand corner, given significance again over anything as humdrum as author, price or publisher. At first look, it's intimidating, a bit like the gatekeeper at the top of the Latour drive in Pauillac. Who chooses matt white as a cover for a wine book? The whole thing seems to demand 'admire me, but don't even think about curling up with a glass of red while reading me'.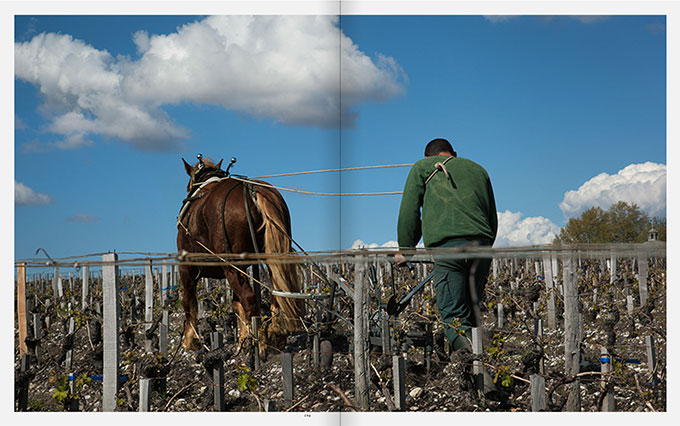 But despite the stark cover, a funny thing happened as I started to read the book. The information is presented as a journey through the seasons, told not so much as a story as a succession of impressions on this particular plot of land, and the history that surrounds it. Pitte's reflections of what various owners have done to improve the soil structure and drainage at Latour made a refreshing change from wine books that present terroir as a god-given right. The technical information is detailed, clear and completely open – a real insight into a host of innovations, from massal selection, biodynamic practices to treatment of press wines. The obsessive detail that envelops Latour is highly effectively conveyed – even through the photography, which at certain points is lavishly spread over double pages, and at others takes the form of hand-attached 'real' photographs stuck to otherwise entirely black pages.
It is Michael Serres who provides one of the most evocative passages, drawing a comparison between the awakening of the poor, abandoned soils of the Médoc with the Venetians who built one of the world's most powerful cities from an infertile lagoon, and the reassurance that all genius comes with immense frailty, often appearing out of nowhere. I imagine François Pinault, who was born into poverty in Champs-Geraux and left school at 15, approved of that particular passage. But I imagine that Jean-Paul Gardère – who drew great pleasure from the fact that he was not handed his successful career on a plate, but made his own luck – would have also.
Chateau Latour will be on sale from early March, priced at €70, in English and French versions. English version translated by Caroline Taylor Bouché.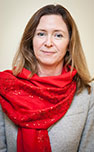 Columnist Introduction
Jane Anson is Bordeaux correspondent for Decanter, and has lived in the region since 2003. She is author of Bordeaux Legends, a history of the First Growth wines (October 2012 Editions de la Martiniere), the Bordeaux and Southwest France author of The Wine Opus and 1000 Great Wines That Won't Cost A Fortune (both Dorling Kindersley, 2010 and 2011). Anson is contributing writer of the Michelin Green Guide to the Wine Regions of France (March 2010, Michelin Publications), and writes a monthly wine column for the South China Morning Post in Hong Kong, where she lived from 1994 to 1997. Accredited wine teacher at the Bordeaux Ecole du Vin, with a Masters in publishing from University College London.
Click here to read all articles by Jane Anson>>
- Follow us on Weibo @Decanter醇鉴

and Facebook

for most recent news and updates -
All rights reserved by Future plc. No part of this publication may be reproduced, distributed or transmitted in any form or by any means without the prior written permission of Decanter.
Only Official Media Partners (see About us) of DecanterChina.com may republish part of the content from the site without prior permission under strict Terms & Conditions. Contact china@decanter.com to learn about how to become an Official Media Partner of DecanterChina.com.