Chateau Croizet-Bages
5th Cru Classe, 1855
Rue de la Verrerie
33250 Pauillac
+33 (0)556 59 01 61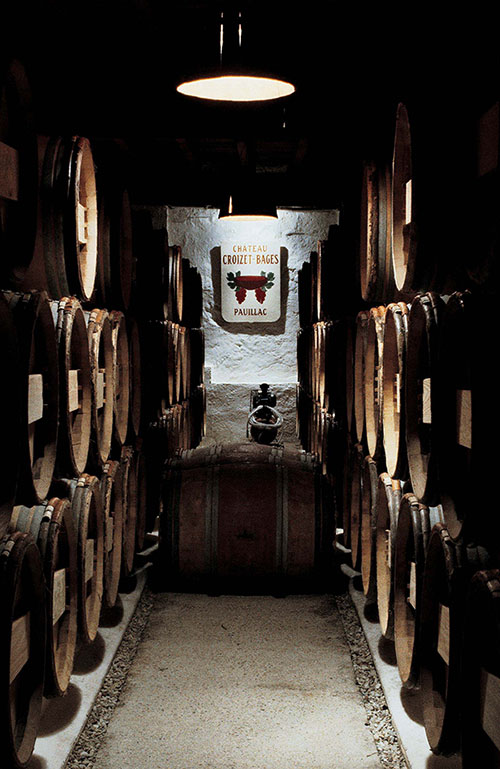 Location: AOC Pauillac, in the hamlet of Bages next to Chateau Lynch-Bages.Production: 30 hectares, producing around 130,000 bottles.
Five things you didn't know about Chateau Croizet-Bages:
- One former owner of Croizet-Bages was the American Jean-Baptiste Monnot, son of Jean Ferreol Monnot, creator of the Klaxon horn (as well as being a successful miner of gold, silver and copper).
- Owners Anne Francoise Quié and Jean Philippe Quié, who took over from their father Jean-Michel at the estate in 2001, are twins. The family has three Médoc estates that are all 30 hectares.
- The original chateau building for Croizet-Bages was built in 1875 along the quays of Pauillac, away from the vines (as is true for Grand-Puy-Ducasse and Duhart-Milon) but it was sold to the town, leaving this estate without the focal point of a grand building. The former chateau is now the Maison de la Culture de Pauillac. Current works are being done to upgrade the buildings in Bages, as the family counts an architect among its members…
- Before the addition of Cantemerle, Croizet-Bages was the last lucky chateau to make it on to the hallowed 1855 listing.
- They join the Bartons and the Bories as one of the few families to personally run two 1855 classified chateaux. Other families that are still present and actually living in their own 1855 chateaux, even if they can only muster one chateau, include Leoville Poyferré, Brane-Cantenac and Dufort-Vivens – if we are going to split heirs, the last two are the same family but different branches.
Current owner: The Quié family, who has been making wine in Médoc since Paul Quié bought Chateau Bel Orme as a present for his wife in 1934. The story goes that she chose it over Pichon Baron, meaning that they could have been the proud owners of three classified chateaux!
Most notable previous owner: Well, we could go with the Klaxon king, Jean Baptiste Monnot, or perhaps the original Croizet brothers who gave the chateau its name.
Other chateaux owned: Chateau Bel Orme (Cru Bourgeois, Haut Medoc), Chateau Rauzan-Gassies (2nd Growth, Margaux).
Commercial strategy:Négociants sell 90% of production, and 60% is exported. Major markets France, USA, China, Japan, Korea. A small amount of wine is sold direct.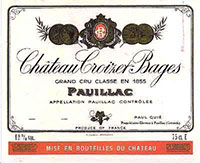 Second wine: La Tourelle de Croizet Bages. The estate also produces La Chartreuse du Croizet Bages as an exclusivity with Cordier wine merchant.
Through the centuries:
Originally part of the much larger Bages estate, the Croizet brothers (one a clerk, the other a notary in local government) bought the vines of this property during the mid to late 18th century. The Croizet's local government role meant that they were very active during the French Revolution, but didn't prosper so well at the end of the First Empire, so sold up to Jean de Puyturac. In 1853, he then sold the estate to Julien Calvé, who briefly gave it his name, becoming Chateau Calvé-Croizet-Bages (although the original name made it on to the 1855 document, where it was given the ranking of Fifth Growth). After world war one, it was bought by Jean-Baptiste Monnot, son of a prolific engineer, miner and inventor who, among other things, patented the Klaxon car horn. His family was badly affected by the 1929 stock market crash, and eventually he sold the estate off during the Second World War, in 1942, to Paul Quié, a wine broker from Paris (Quié was originally from Bordeaux, so this was a homecoming for him). Today Quie's son Jean-Michel has semi-retired, and his children Anne-Francoise and Jean-Philippe are in charge.
Consultant: Eric Boissenot. Anne-Francoise and Jean-Philippe are also oenologists, and Jean-Philippe has trained also with Claude Bourgignon, the terroir specialist.
Plantation and vineyard work:Cabernet Sauvignon (54%), Merlot (38%), Cabernet Franc (4%), average age 30 years, planted to 6,500-8,000 vines per hectare. Debudding, leaf thinning and green harvesting through the growing season, as required, then hand selection and sorting is carried out in the vines to ensure the crop is ready for harvest, with the last selection being made the day before harvest. Croizet-Bages practises 50% machine harvesting, 50% hand harvesting. This is a change over the past few years, with hand harvesting carried out on selected plots (the plots change each year depending on vintage conditions). The use of machines has brought the family criticism in the past, and this is perhaps a reaction to it, but they were never the only classified growths to use machine harvesting, and still are happy to say that it gives them flexibility to use both systems. Twenty years of work on restoring and improving the vineyard is coming to an end.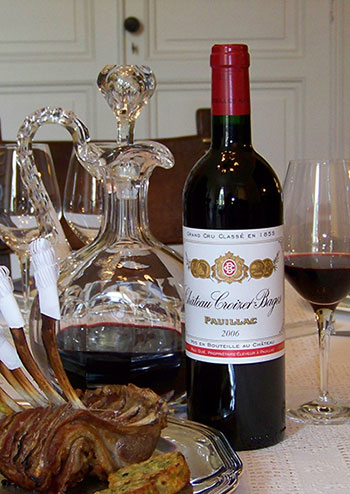 Vinification: A traditional cement vat winery was replaced in 1986, and another new winery is currently being built. Three weeks of maceration, 100% barrel aged, but only 20% new oak for 12-18 months. Co-inoculation.
Terroir: Deep (6 metres) of gunzian gravel on the Bages plateau over a subsoil of clay and then further compact gravel, at an elevation of around 20 metres, with the 25 hectares extending in an uninterrupted plot.
Recent improvements or changes:
The chateau is undergoing renovation works, following long-standing works in the vineyard. There will be new cellars, a new winery, new entertaining spaces and tasting room, with solar panels and other sustainable detailings.
There is currently no website for this property, although one is under construction.
This is a perennially under-valued wine, but has done very well in recent Decanter tastings, with the 2010 coming out Highly Recommended in a 2014 panel tasting.
Recent Decanter scores:
2012 en primeur – 16.5 points/20
2011 en primeur – 16 points
2010 en primeur – 16 points
2009 en primeur – 16 points
2008 en primeur – 16 points
Average bottle price in UK: £20-£35, depending on vintage.
- Follow us on Weibo @Decanter醇鉴

and Facebook

for most recent news and updates -
All rights reserved by Future plc. No part of this publication may be reproduced, distributed or transmitted in any form or by any means without the prior written permission of Decanter.
Only Official Media Partners (see About us) of DecanterChina.com may republish part of the content from the site without prior permission under strict Terms & Conditions. Contact china@decanter.com to learn about how to become an Official Media Partner of DecanterChina.com.