Situated southeast of Australia, New Zealand is perhaps best known for its Sauvignon Blanc.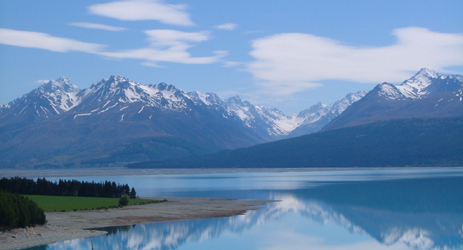 Vines were planted in New Zealand early form the 19th century, but quality wines started to be produced from the 1970s, when the first Sauvignon Blanc vines were planted in Marlborough. Winemakers soon discovered the potential of the maritime climate of New Zealand, and cool-climate varieties began to thrive throughout both the North Island and South Island of New Zealand.
The two islands produce wines of distinctive characteristics. Auckland and Hawkes Bay in the Warmer North Island produce many outstanding red wines such as Cabernet Sauvignon, Merlot and Syrah, while stand-out Chardonnays are made in Gisborne. South Island used to be considered too cold for viticulture, but now Marlborough makes some of the most successful Sauvignon Blancs, and is regarded by some critics as the most suitable place in the whole world to grow the grape. As the most southerly wine region in the world— Central Otago is responsible for excellent Pinot Noir and Riesling, as well as Chardonnay.
Unlike another narrow-and-long, remote wine producing country — Chile, New Zealand is influenced heavily by fungal diseases, virus and pests. Therefore a strict government virus and diseases check is applied to imported plant materials, and the technique of canopy management is widely used here.
New Zealand has a comparatively limited domestic market — wines were not even allowed to be sold in supermarkets and grocery stores until 1990. The export market, on the other hand, is far more successful. The UK is New Zealand wine's number one export market, followed by the US and Australia. In recent years the Asian market is increasingly attracted by the unique quality of New Zealand wines, especially its aromatic, zesty Sauvignon Blanc.