The rather pedestrian blue-green emblem of Credit Agricole bank is found on every local high street up and down France; even the smallest village seems to come with a pharmacy, a hairdressers and a Credit Agricole. This is France's largest banking partner to the agricultural industry, and has been since the bank's creation in the late 19th century, when it was founded as a means of preserving the social and economic benefits of small farms. It was only in 1966 that it was allowed to extend its remit beyond agricultural clients and even today the bank is used by 88% of French farmers for their business. But few realize that it is also, through the 100%-owned subsidiary Credit Agricole Grands Crus (CA Grands Crus, Terroirs et Châteaux), owner of some of Bordeaux's most prestigious names, including Château Meyney in Saint Estèphe and Château Grand Puy Ducasse in Pauillac. Today the company farms 500 hectares of its own vines, with an annual bottle production of 2.2 million, not to mention being either majority or minority investor in dozens more estates.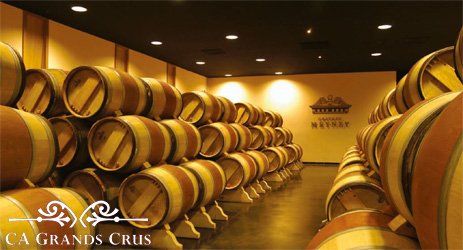 It's therefore somehow fitting the headquarters of this, Bordeaux's most unassuming but most significant viticultural landowner, should be found on Quai Antoine Ferchaud in Pauillac, in the slightly faded 19th century grandeur of Château Grand Puy Ducasse.
The quays of Pauillac are now merely signposts to the famous vineyards lying to the south and north but have had their moments of glory. It was from here, in 1777, that the Marquis de Lafayette set sail on his boat 'La Victoire' to fight in the American War of Independence, replaced in the 19th and 20th centuries by commercial oil tankers heading out for south America. The biggest boats that leave the Quai Antoine Ferchaud today are fishermen trawlers, hoping to catch lamprey, elvers and shad from the waters of the Gironde Estuary. But the location means CA Grands Crus is surrounded by the winemakers that make up its banking arm's traditional clients, unlike the many other investment banks and insurance companies who own chateaux in Bordeaux, but continue to do the majority of their business from Paris, London or Beijing.
It's a much-quoted rumour that Credit Agricole has become the biggest landowner in Bordeaux by default – not by choosing to buy estates, but by acquiring them because the previous owners have defaulted on loans, and been forced into foreclosure.
Thierry Budin, director of CA Grands Crus visibly winces when I mention this. We are meeting at his offices on a sodden Tuesday morning. The rain started sometime the week before, and doesn't show any sign of letting up. The drive up to Pauillac was like passing through the Venetian lagoon – those famous ditches built by Dutch engineers in the 17th century straining at the seams. Budin looks as if he could cheerfully cast me adrift in one of them, and not wait to see if I made it out.
'The banking arm and CA Grands Crus are run entirely separately,' he says with a shake of his head. 'My background is wine, not banking, and we are here to make exemplary wine, and to invest in the heritage of Bordeaux.' Having made that clear, he softens a little. 'It is perhaps true that in the past the bank acquired properties in a less structured way. We had various estates around France, but with no overall strategy. That is no longer true.'
That focus, with the creation of a specific 'pôle viticole (winemaking arm)', dates back just eight years, to 2004, when Credit Agricole incoporated CA Grands Crus and bought six estates from négociant house Cordier. They resold La Mothe Bergeron in Haut-Médoc, but kept the others: Château de Rayne Vigneau in Sauternes, Château Grand-Puy Ducasse, a 40-hectare 5th Growth in Pauillac, Château Meyney in Saint-Estèphe, and two AOC Médoc properties, Château Blaignan and Château Plagnac.
In 2006, Budin, a native of the Champagne region, who had worked as director of Perrier Jouet under Seagram, was hired as managing director, and Denis Dubourdieu as consultant winemaker. They were brought in to streamline the business, and to install a ten-year plan for the estates, investing around €6 million in new winemaking equipment, raising trellising, improving drainage and replanting where needed. Today, Budin has a ten-strong permanent technical team, headed up by the highly respected Anne la Naour, and two years ago hired a brand ambassador for China, as well as launching some innovative new products, such as 'Champagne-style' individual gift boxes for Rayne-Vigneau.
In 2012, more vineyards were brought in to the company, with Chateau La Tour du Mons in Margaux (where CA Grands Crus is majority shareholder), Chateau de Santenay in Burgundy (owned by the bank since 1997, but now brought under the umbrella of the new wine entity), and Chateau Saint-Louis la Perdrix in Costieres de Nîmes.
At the same time, the new company seems to have reconnected with its banking roots, becoming minority shareholders in existing Bordeaux businesses with succession problems – most notably Domaines Lapalu (eight estates across the Médoc) and Domaines André Lurton (11 properties, mainly in Bordeaux and Pessac Léognan). Development director Sophie Dano at CA Grands Crus in Paris confirmed at the time, 'Credit Agricole has worked with André Lurton for over 40 years, and financed the majority of his vineyard purchases. This is simply an investment of capital.'
'Our aim is never to take over family estates,' Budin says, returning to the earlier exchange. 'Winemakers may find they are confronted by problems of succession, and our aim is to give them the confidence to keep the family business together. We see it as a short-term investment of funds, but we have nothing to do with running the chateaux.'
The benefit to the bank, as he sees it, is not the acquisition of property, but showing their clients a different side to Credit Agricole. 'With our own estates, we can demonstrate the cultural value of wine. It gives us emotional leverage. We have historical links with farming of all kind, but investing in quality wine estates adds credibility.' Certainly Credit Agricole has been expanding in recent years into wealth and asset management (its private equity department, for example, grew 6% from 2010 to 2011, even against the tough global backdrop), and Budin hosts many tastings and dinners for private clients.
'There are benefits for both sides – we get a strong partner for investment, and they get the credibility that comes with the most prestigious estates of Bordeaux and Burgundy'. Indeed, in a world where the biggest names of the Médoc are increasingly owned by businesses, there is something to be said for the close ties CA Grands Crus has with the industry. Grappling with the harvest at Grand Puy Ducasse might not directly benefit the small winemaker who has financed a new tractor through a Credit Agricole loan, but it could be a start.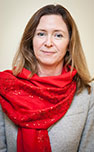 Columnist Introduction
Jane Anson is Bordeaux correspondent for Decanter, and has lived in the region since 2003. She is author of Bordeaux Legends, a history of the First Growth wines (October 2012 Editions de la Martiniere), the Bordeaux and Southwest France author of The Wine Opus and 1000 Great Wines That Won't Cost A Fortune (both Dorling Kindersley, 2010 and 2011). Anson is contributing writer of the Michelin Green Guide to the Wine Regions of France (March 2010, Michelin Publications), and writes a monthly wine column for the South China Morning Post in Hong Kong, where she lived from 1994 to 1997. Accredited wine teacher at the Bordeaux Ecole du Vin, with a Masters in publishing from University College London.
Click here to read all articles by Jane Anson>>
All rights reserved by Future plc. No part of this publication may be reproduced, distributed or transmitted in any form or by any means without the prior written permission of Decanter.
Only Official Media Partners (see About us) of DecanterChina.com may republish part of the content from the site without prior permission under strict Terms & Conditions. Contact china@decanter.com to learn about how to become an Official Media Partner of DecanterChina.com.